Aval Payasam – Rice flakes Kheer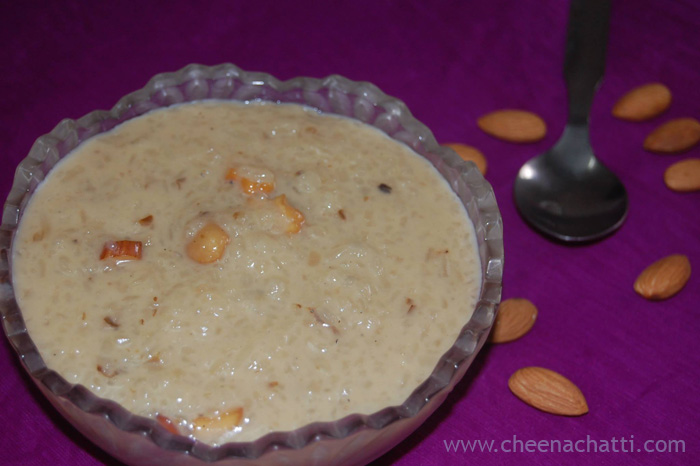 Ingredients
Aval/White rice flakes : 60grams
Milk : 3/4 litre-1 liter (Boiled)
Sugar : 1 cup (You can add according to your taste)
Cardamom : 3 (To be powdered)
Almonds : 6 numbers
Cashew nuts : 6 numbers
Ghee : 3 table spoons
Rose Gulkand : 1 table spoon
Aval payasam is a quick and easy to make dessert / pudding. Its made using Aval aka poha which is said to be the favorite of Lord Krishna. So South Indians, usually prepare this during the gokulaashtami festival.
This recipe is really simple one. I hope you all will try it and let me know the outcome.
How to make Aval Payasam?
Heat a thick bottomed vessel and add 1 table spoon ghee.
Fry chopped cashew nuts and almonds in it.
When its golden brown in colour, remove them to a saucer.
Add rest of the ghee to the vessel and let it melt.
Add rice flakes and fry until its crispy.
Add boiled milk and heat until the rice flakes are cooked and the kheer is thick. Stir continuously.
Add sugar and cook in a low flame. Stir continuously.
Add powdered cardamom and the fried cashew nuts and almond pieces.
At last add rose gulkand and mix well.
Let it bubble. Switch off. Serve hot or cold.
This entry was written on January 6th, 2017 by
Athira Sooraj
in
Desserts
and tagged with
aval payasam with jaggery
,
aval payasam with sugar
,
kerala aval payasam
,
aval payasam with condensed milk
,
payasam
,
how to make payasam
,
onam payasam
,
aval recipes
,
easy payasam recipes
. Last revised on
January 15th, 2017.
More mouth watering recipes!