Jackfruit meat mix / Chakkayum erachiyum – Kerala style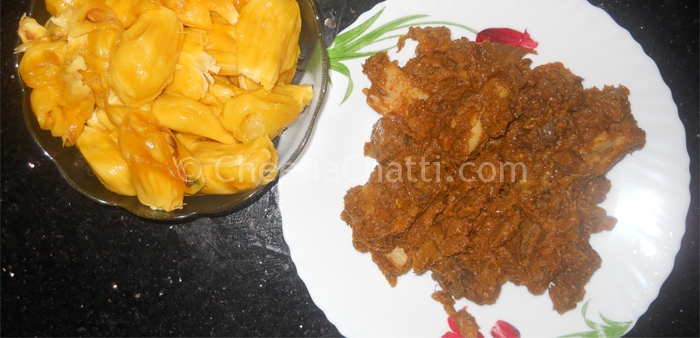 Ingredients
Unripe / Green Jack Fruit : 2 large cups
Beef - 1/2 kg
Ginger and Garlic Paste - 1 tsp each
Chilli powder - 1 tsp
Coriander powder - 1 tsp
Turmeric powder - 1/2 tsp
Pepper powder - 1 tsp
Garam masala powder - 1 tsp
Mustard seeds : 1/2 tsp
Shallots / Kunjulli chopped - 1 tsp
Coconut oil - 2 tsp
Curry leaves : 1 or 2 twig
Salt : As needed
This is a recipe to prepare traditional Kerala jackfruit and beef mix. Jackfruit meat mix aka "chakayum erachiyum" is an old traditional Kerala food item. You will love it if you love spicy foods. Its a recipe I collected from my grand mother. This is an easy to prepare one and a typical nadan chakka recipe.
Preparation of Jackfruit meat mix.
Slice the green jackfruits into ring sized pieces and wash it.

Cut the beef with bones into small pieces and pressure cook it for 5-7 whistles with grinded garlic, ginger , chilli powder, coriander, turmeric powder, pepper powder, garam masala, salt and keep it aside. 

Add the sliced jackfruits to it.
Cook again for another 2 whistles.
Take it from the stove and mix it well in a big vessel.
Give low flame to the vessel to keep the mix hot while mixing.
Heat oil in a pan, Splutter mustard seeds and fry curry leaf, shallots & dried chilli for seasoning.
Add this seasoning mix to the jackfruit meat mix.
Serve it hot.
Want to learn more jackfruit recipes? check these.
This entry was written on January 5th, 2017 by
Renoos
in
Non Vegetarian
and tagged with
tapioca recipe
,
jackfruit beef mix
,
jackfruit curry
,
kerala chakka cuury
,
jackfruit
,
jackfruit snacks
,
jackfruit meat mix
,
beef jackfruit curry
,
jackfruit recipe
. Last revised on
January 16th, 2017.
More mouth watering recipes!