Spicy Kerala mathi fry / mathi varuthath / sardine fry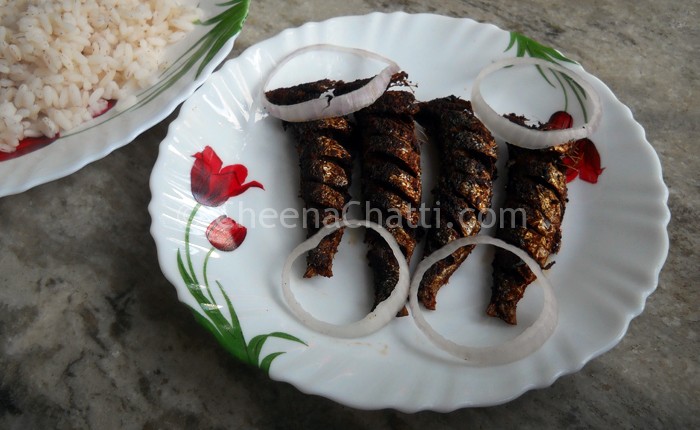 Ingredients
Cleaned sardine fish : 6 nos
Black pepper powder : 3 tsp
Turmeric powder : 1 tsp
Red chilly powder : 1 tsp
Salt : as needed
Curry leaves : 1 sprig
Coconut oil : 2-3 tbsp
Sardine ( locally known as Mathi or Chaala in Kerala), is one the cheapest and tastiest fish available in South India. Sardines are one of the best sources of omega 3 fatty acids, which reduces your triglycerides and cholesterol. The small bones of Sardine is good resource of calcium. Keralites usually make sardine curry, mathi vattichatu or fry with sardines. Today I will share you the recipes for sardine fry. This is a recipe our driver shared with me. He is from Alappuzha a coastal region in Kerala.
Sardine / mathi fry
Clean the sardines well and make oblique gashes on both sides of the fish.
Grind all other ingredients into a paste form
Marinate the mathi fish with this paste and keep it aside for half an hour.
Heat a frying pan and pour some oil in it. Add the curry leaves.
When the oil gets heated place the sardines over the curry leaves and fry it on medium heat turning them to the other side in between.
Switch off and serve immediately with rice.
Tips
Cleaning sardines takes time and need patience. Use an apron while cleaning sardine and wash your hands with soap multiple times after cleaning sardines because they are having a stinky smell.
Frying sardine can make veggies go mad with you because it has an extreme strong smell. Careful when you fry sardines, they have a bad reputation for its stink.
Have you seen other fish fry recipes?
This entry was written on October 5th, 2016 by
Cini P Moideen
in
Indian
and tagged with
sardine fry kerala style
,
fried sardines recipe
,
kerala mathi fry
,
kerala sardine fry recipe
,
fish fry
,
sardine dishes
,
fried sardines
,
sardine fry
,
kerala sardine fry
. Last revised on
October 14th, 2016.
More mouth watering recipes!