Kerala style fish molly recipe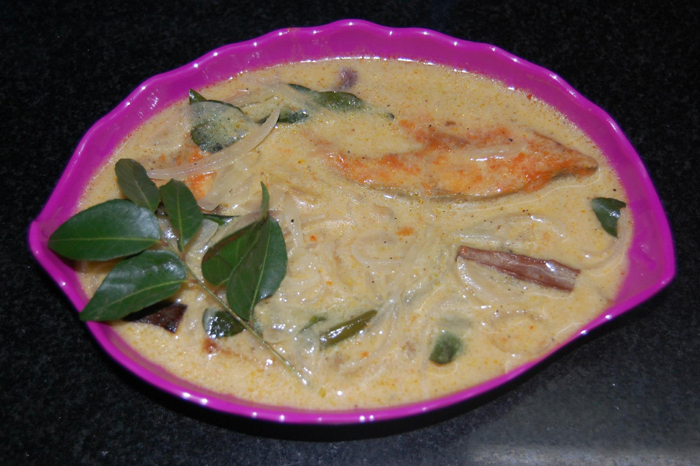 Ingredients
Pomfret / King fish – 6 thinly sliced pieces
Onion – 2 Medium sized
Green Chillies – 5
Ginger – 20 Grams
Cinnamon – 4 pieces
Cloves – 6
Coconut milk – Thin – 3 cups, Thick – 1 cup
Cornflour – 1 tablespoon
Salt – to taste
Curry leaves – 2 strings
Pepper Powder – 1 table spoon
Oil – To fry the fish pieces
For marination
Chilli Powder – 3 table spoon
Corn flour – 1 table spoon
Turmeric powder – ½ teaspoon
Lemon Juice squeezed – 1 teaspoon
Salt – to taste
Fish molly aka fish mollee is a traditional dish from the Kerala Suriyani Christian Kitchen. Its fish curry (fish stew) prepared in coconut milk with a little difference.
Fish molly preparation
Prepare the marination mix by mixing together all the ingredients.
Apply them very well and evenly on the cleaned fish slices. Keep it aside for 30 minutes.
Heat oil in a large Tawa or Kadai, and shallow fry the fish pieces until they are half cooked. Remove the fried pieces to another plate.
In the same oil, add rest of the items and fry well.
Add salt.
Add corn flour into two tablespoon water and mix well without lump.
When the onion pieces are tender (Onions should not loose its color; it should be only transparent), add thin coconut milk with constant stirring and allow it boil.
When it starts boiling add the corn flour mix into the coconut milk, while simmering.
Stir continuously in this stage.
When it starts bubbling add the fried fish pieces and stir without touching the pieces.
Cook it for another 5-10 minutes in a low flame.
Add thick coconut milk, curry leaves etc at this stage and stir well by rotating the pan itself.
Add pepper powder and switch of before it starts bubbling.
Check salt and serve fish molly hot with Puttu / Chappathi / Pathiri.
This entry was written on November 20th, 2016 by
Athira Sooraj
in
Christmas
and tagged with
fish curry with coconut gravy
,
fish
,
how to make fish molly
,
fish molly curry recipe
,
how to make fish curry
,
fish molly
,
fish molly kerala style
,
kerala fish recipes
,
fish molly kerala recipe in malayalam
. Last revised on
December 1st, 2016.
More mouth watering recipes!