Sukhiyan preparation – Kerala style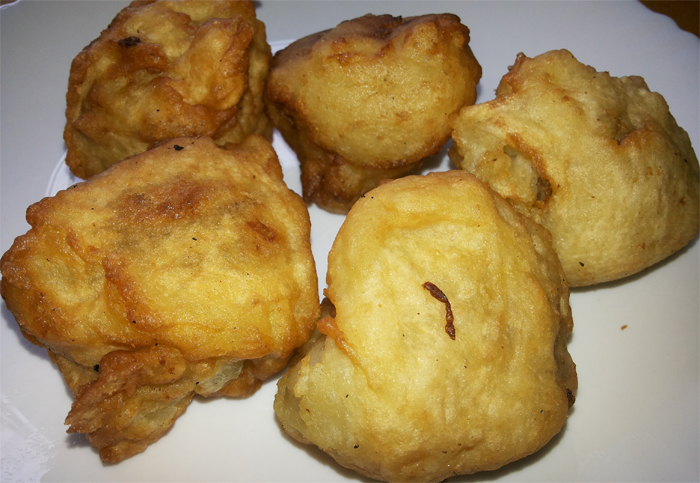 Share your recipes
The following information about this recipe was contributed by Nandini R: Recipe photo, Ingredients & Preparation.
Ingredients
Whole Green gram : 1 cup
Jaggery : ½ cup
Grated coconut : ½ cup
Cardamom powder : ½ teaspoon
Ghee : 1 tablespoon
All purpose flour / Wheat flour / Maida : 1 cup
Water : as required
Oil : for deep frying
Salt : a pinch
Sukhiyan is a deep fried traditional Kerala tea time snack made from Green gram / Mung bean, coconut  and jaggery filling. This is a highly nutritious food because the mung bean is a rich source of low-fat protein and fiber. One cup of mature, boiled beans contains around 14 g of protein and 15 g of fiber.
This recipe is contributed by our subscriber Nandini. This is the same way we also prepares it at home..
Sukhiyan Preparation
Pressure cook the Green gram with a pinch of salt by adding around 2 cups of water. Drain the water and keep it aside.
In a heavy bottomed pan, heat the Ghee. Add jaggery when ghee starts melting. Mix well and let it melt.
Add the grated coconut, mix well.
Add the cardamom powder and the green grams to the pan.
Saute it well for a couple of minutes and then remove from the stove.
Make small lemon size balls with the cooked mixture.
In a bowl, make a medium thick batter with Maida (All purpose flour) with a pinch of salt and water.
Heat oil in a pan. When it becomes hot, dip each of the green gram balls in the batter, coating it uniformly, and then gently transfer into the hot oil and deep fry till it become yellowish with a crispy texture.
Serve hot.
Tips
Dont forget to share your results with us.
This entry was written on February 6th, 2017 by
Reeja MytheenKunju
in
Bakery
and tagged with
snacks
,
sukhiyan recipe in malayalam
,
kerala snacks
,
sukhiyan preparation
,
sukhiyan
,
evening snack
,
tasty sukhiyan
,
sukhiyan snack
,
kerala sukhiyan
. Last revised on
February 20th, 2017.
More mouth watering recipes!