Vendakka thoran / Okra stir fry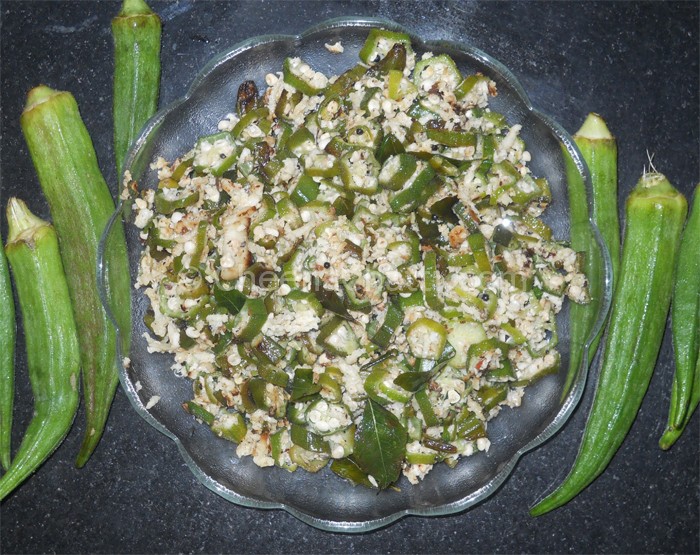 Ingredients
Ladys finger (Okra / Vendakka / Bhindi) : 12-15nos
Grated coconut : 2 tablespoon
Green Chilli : 4 nos
Shallots- 2 nos
Garlic : 2 cloves
Curry leaves : 1 sprig
Mustard : 1tsp
Coconut Oil : 2tbsp
Salt : to taste
I was never an Okra lover, but as my hubby loves all preparations of Okra / Vedakka, I started including it in my menu. This is a simple everyday recipe (nothing of rocket science ;)) for preparing Vendakka thoran (stir fry) with grated coconut. Its my MIL's recipe. She prepares it well and quickly in not more than 15- 20 minutes.
Try this quick and easy recipe and share your thoughts below.
Vendakka thoran preparation
Wash the Vendakka / Okra / Bhindi well in running water.
Trim the edges of each of them and cut them in to about half a cm wide rounds.
Mix the grated coconut, shallots, green chillies to a coarse form in a mixer.
In a pan / Kadai  heat the coconut oil.
When it becomes hot, splutter the mustard seeds.
When the mustard seeds starts crackling, add the curry leaves and okra.
Add the ground paste (#3) to it.
Add salt.
Saute it well and cover with a lid. Saute it in between.
Keep it in medium flame and stir it till it turns crispy.
Serve hot with rice.
This entry was written on November 20th, 2016 by
Renoos
in
Gravies and Curries
and tagged with
okra stir fry indian
,
okra stir fry
,
bhindi recipes
,
vendakka thoran
,
vendakka kuzhampu
,
thoran
,
okra recipes
,
stir fry recipes
,
okra thoran
. Last revised on
December 1st, 2016.
More mouth watering recipes!