Whole Wheat Oil free Banana loaf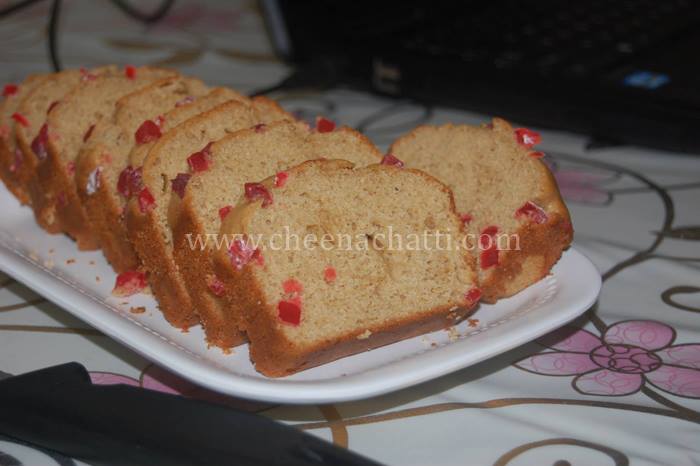 Ingredients
Wheat flour - 3/4 cup
Ripped small banana - 4 nos
Condensed milk - 100 ml
Brown sugar - 1/4 cup
Eggs - 2 nos
Golden Syrup - 1 teaspoon
Baking powder - 1 teaspoon
Tootty frooty - 2 table spoon (washed n dried)
Looking for a fat free, Oil free Banana loaf recipe? Then try this. This tested and tasted recipe of banana loaf recipe is our of our simplest and healthiest bakes. With only a few ingredients, which you will have mostly at home you can prepare this loaf easily
Oil free Banana Loaf preparation
In a large mixer jar, powder brown sugar.
Add in chopped bananas. Grind well. Then add cracked eggs and blend.
Add wheat flour, golden syrup and condensed milk. Grind well.
If the batter is too thick, add two table spoon milk.
Remove jar from the mixer and mix in baking powder.
Let the batter sit for at least 15 minutes.
Later, preheat the oven in 180 degree and empty the batter to a baking loaf.
Bake for 20-25 minutes.
PS : You can let it cool before slicing to prevent it from getting teared while doing so. This will make it easier to cut. Then you can store these sliced banana loafs in air tight containers.
This entry was written on October 14th, 2016 by
Athira Sooraj
in
American
and tagged with
basic whole wheat bread
,
whole wheat cake recipe
,
wheat
,
best banana loaf recipe
,
wheat banana bread
,
easy whole wheat banana bread
,
whole wheat banana cake
,
banana recipes
,
banana
. Last revised on
October 23rd, 2016.
More mouth watering recipes!