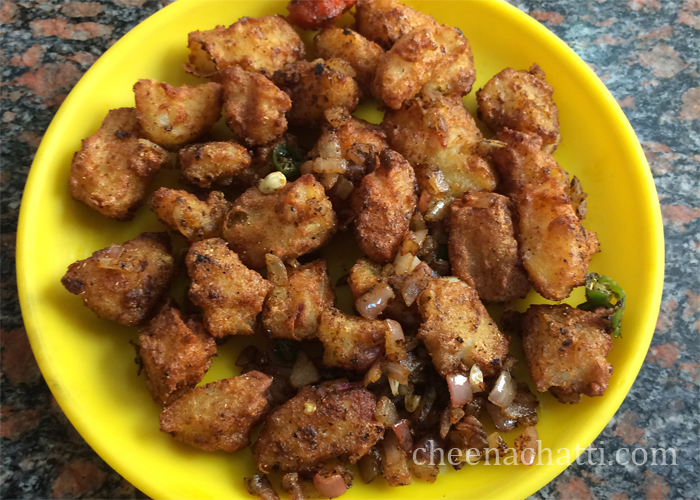 Prepration time:
15 Minutes
Persons served:
2 Persons
ingredients
Medium sized potatoes : 2
Corn flour : 4 tsp
Chilli Powder - ½ tsp
Garam Masala / Chat masala : ½ tsp
Lemon juice extract : 1 lemon
Onion : 1 small size (cut into very small pieces)
Green chilly : 3 nos(Slit into small pieces)
Salt : as needed (½ tsp)
Curry leaves : 1 sprig
Preparing aloo fry is the easiest thing any amateur cook can do. You can serve this as an evening snack along with a little ketchup.
PS : It will be better if you use fresh potatoes for this.
Step by Step Aloo fry preparation
Prepare a solution of cornflour with a pinch of salt and water. The consistency should be semithick so that it will coat the potato pieces unifromly.
Pressure cook the potatoes for up to 3 whistles. Once pressure it released, peel of the potatoes and cut them into small identical sized cubes.
Coat them evenly with the corn flour solution.
Heat oil in a pan and deep fry the potatoes for 3-4 minutes until the color changes to olden brown.
In another pan, heat 2 tbsp of oil.
When the oil is hot, add the onion pieces, green chillies, curry leaves and saute it until the onion turns yellow color.
Add the fried potato pieces, add red chilly powder, garam masala, salt, lemon extract one after another and saute total for a 2-3 minutes. The potato pieces should be evenly coated with the masala.
Turn off the flame and transfer to a servin bowl. Serve hot with some ketchup.