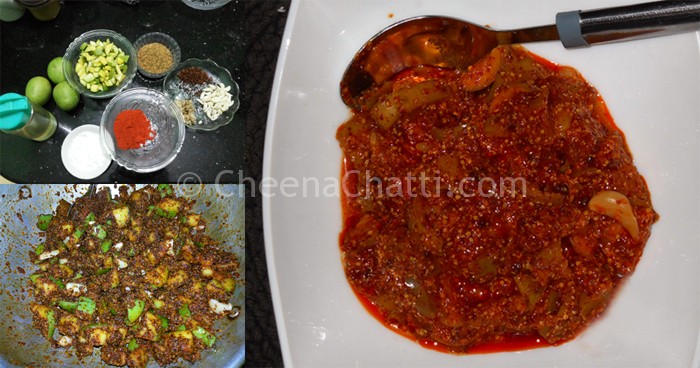 Persons served:
10+ Persons
ingredients
Chopped Mango pieces : 6cups
Salt : 1 cup
Mustard seeds : 1 cup
Red chilly powder : 1 cup
Garlic flakes : 1/3 cup
Fenugreek seeds : 2tbsp
Roasted & powdered fenugreek : 2tbsp
Gingelly oil : 750gms
Avakaya / Aavakaaya / is mango pickle made by the Andhra people in South India.  Aavakaaya pickle has an important role in Andhra people's culture. Infact Andhra culture may be thought to be incomplete without aavakaaya. The name avakkaya is derived from ava meaning mustard (kaduku) and kaya meaning mango – Thanks to our subscriber Rekha Pyaraka for this info.
Andhra people prefer to prepare avakaya / gongura with plucked uniform sized mangoes. The mangoes should just start maturing so that it should be possible to cut there inner core.
After selecting the mangoes, they should be washed thoroughly to remove the dried sticky liquids on their surface. Wash each mangoes seperately by rubbing with your hands. After that with a clean and dry cotton cloth pat dry each manoges. After drying the mangoes, chop them into 1inch size pieces. You need to have really sharp hard knife for this. The inner shell of the mangoes should remain intact (to improve the shelf life of pickle). Using an ordinary knife remove the seeds and peel of the white membrane attached to the hard inner shell.
Weigh the ingredients using the same cup and keep ready the sterilized jar for storing the pickle.
Avakaya preparation
Roast the mustard seeds (switch of the flame before they starts crackling) and then grind it into fine powder in a mixer – Keep it aside.
Divide the garlic into two halves and mash the one half – Keep it aside.
In a bowl, add the mustard powder, salt, red chilly powder, mashed garlic and fenugreek powder together and mix well – This is the masala needed for Avakaya pickle.
Take a handful of mango, and put in another bowl. Add oil and a spoon of avakaya masala to this. Mix it thoroguhly with your hand and transfer it to the sterilized jar.
Add a part of the remaining garlic pods to the jar as layering over the mangoes.
Repeat process #4 and #5 with the remaining mango pieces.
Add 1/4th cup of oil over top of the mangoes in the jar and cover it with the lid. The oil should float alteast upto 1/2inch.
Keep it for three days.
Mix it in between on Day 2 using a clean, dry spoon.
On day 3, mix it again and taste it. Add extra oil or salt only if you feel it is low.
Serve with rice, curd or ghee.
Tips
It is recommended to us mangoes which are sour in taste.
For some people the pickle may seems too hot, especially with the garlic. In such case reduce the quantity of garlic.
The spicy variant of aavakaaya, we just prepared is also known as 

Allam Aavakaaya.