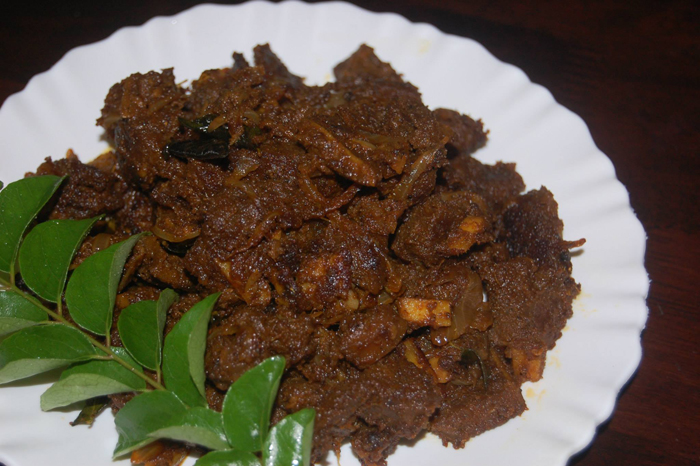 Prepration time:
45 Minutes
Persons served:
4 Persons
ingredients
List 1
Beef – 500 g (Boneless and cubed)
Meat Masala – 2 table spoon
Ginger paste – 1 table spoon
Garlic paste – 1 table spoon
Chilli powder – 1 table spoon
Turmeric powder – ½ teaspoon
Salt – to taste
Coriander powder – 2 table spoon
Pepper Powder – 1 table spoon
Garam Masala – 1 teaspoon
List 2
Oil – 3 table spoon
Mustard – 1 teaspoon
Onion – 1 Medium chopped
Coconut flakes – a handfull
Ginger-garlic paste – 1 teaspoon
Green chilli – 3-4
Curry leaves – Plenty!
Turmeric powder – ¼ teaspoon
Coriander powder – 1 teaspoon
Pepper powder – ½ teaspoon
Garam masala – ½ teaspoon
Coconut oil – 1 table spoon
Its a long time since I shared a recipe on cheenachatti. Here I am back with the traditional recipe of Kerala style Beef Varattiyathu / Beef Ularthiyathu recipe, a signature dish of Kerala Christians, where red-meat is pressure cooked and sauteed with spices and herbs.
Beef Varattiyath preparation
Wash and clean the beef.
Mix all the ingredients in list 1 and keep it aside for half an hour.
Now add a cup of water and pressure cook this for 30 minutes.
Turn of the flame and let the pressure release. It may take around 20 minutes.
In a heavy bottom kadai / fry pan, add oil and splutter mustard seeds.
Then add onion and the coconut pieces. Fry until the onions become translucent.
Add ginger garlic paste, green chilli and half of curry leaves. Fry well.
Now add all the spices from list 2, one by one and stir until the raw smell goes.
Now open the cooker and transfer the content to the Frypan / kadai.
Keep stirring well not to stick to the bottom.
Keep the flame in high until the water content is fully dried out.
Add the rest of the curry leaves and coconut oil and stir well.
When its dried each pieces can be separated.