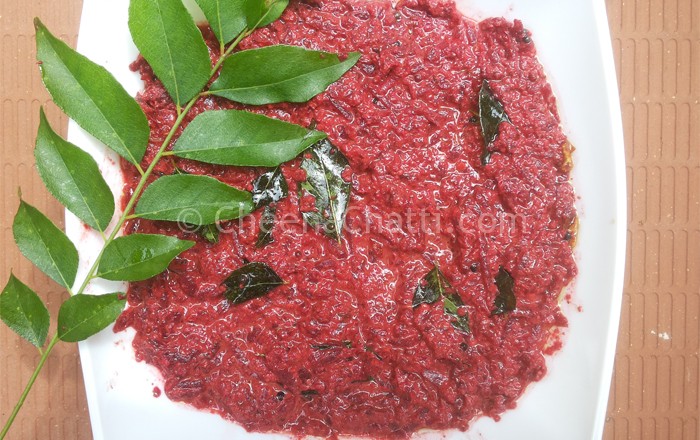 Prepration time:
30 Minutes
Persons served:
8 Persons
ingredients
Grated beetroot : 1 medium size
Turmeric powder : 1/4th tsp
Beaten curd : 2cup
Green chillies : 7 nos
Mustard seeds : 1 tsp
Grated coconut : 2 cup
Ginger : 1/2 inch piece
Cumin seeds / jeerakam : 1/4 tsp
Water : 3tbsp
Salt : as needed
Oil : 1 tbsp
Shallots : 1 large sliced
Curry leaves : 2 sprig
Pachadi is a traditional South Indian side-dish similar to North Indian Raita made of fresh vegetables, Yogurt, coconut, green or red chillies sauted and garnished in oil with fried mustard seeds, ginger and curry leaves. It is usually served as an accompaniment for rice, snacks like idli, dosa etc. Pachadi can be prepared with many type of vegetables. This is a recipe for preparation of Beetroot Pachadi.
Don't forget to check our Pumpkin pachadi recipe too.
Preparation of Beetroot Pachadi
Clean the beetroot, grate it and keep aside.
In a pan cook the grated beetroot, salt, turmeric powder, 1 tbsp water with lid closed and saute in between.
Meanwhile in a mixer, grind ½ tsp mustard seeds, cumin seeds, grated coconut, ginger and green chillies into a paste form by adding 3 tbsp water.
Once the beetroot is cooked (softened) well, transfer the grinded paste to the pan and saute it well.
Cook the ingredients for another 5 minutes in medium flame till water dries off.
Meanwhile beat the curd in a bowl using spoon or rai  and keep it aside.
Transfer the beaten curd to the pan and warm it (do not allow it to boil).
Turn off the flame once it starts to boil .
Splutter mustard seeds  with oil,  onion and curry leaves and pour it to cooked pachadi.
Enjoy colorful  beetroot pachadi as a side dish for rice.
Tips
Use grater with  bigger holes while grating beetroot.

Use salt as needed.
You can add dried redchillies for spluttering mustard seeds.
Check these pachadi recipes also.