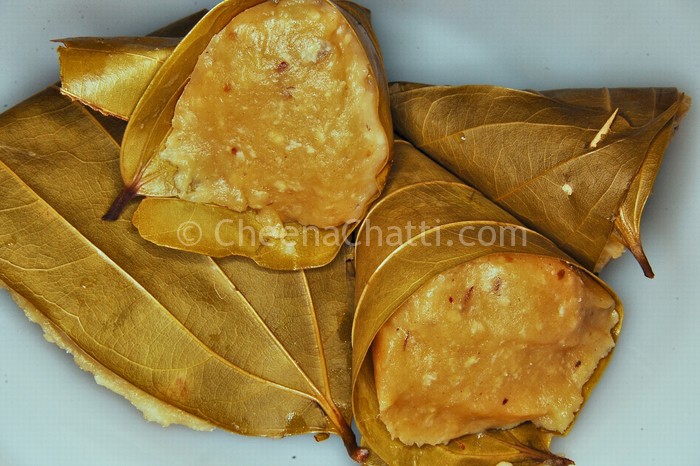 Persons served:
4 Persons
ingredients
Ripe Jackfruit Bulbs : 2cups
Jaggery (scraped) : 1 cup
Freshly grated coconut : 1cup
Rice flour (roasted) : 2 cups
Cardmom (powdered) : 1/2 tsp
Cumin seeds : 1/4 tsp (crushed)
Edannayila / Vazhana Ela / Banana leaves : as required
Salt : 1 pinch
Kumbilappam aka Chakka Kumbulappam, Chakka Appam, Vazhanayappam,  Theraliyappam is an authentic snack food of Kerala.  Its prepared by cooking jackfruit bulb with rice flour, grated coconut and jaggery. This mixture is then wrapped and steamed in fresh green Edanailla /Bay Leaves /Vazhanayilas shaped into cones (Kumbils). These leaves have a special fragrance which when mixed with the jackfruit will definitely stimulate your taste buds.
Kumbilappam Preparation
Remove the seeds from the jack fruit bulbs and pressure cook them for 3 whistles.

Allow it to cool and then blend it into a paste format in a mixer and transfer to a medium sized bowl.
Combine the grated coconut, scrapped jaggery, cardamom powder, cumin seeds and salt in the mixer (Don't make it into a paste, Just 2 spins are enough).
Mix the jackfruit paste and the mixture #3 together.
Add rice flour little by little and make a smooth dough like that for chappathi. It should not be too thick or too loose. Add water if necessary or the dough is too thick.
Make cones from the Vazhanayila / Ednailla /Bay leaves using a toothpick. Leave the upper edge of the leaf to close the cone.
Fill each of the cones with the dough depending on their sizes.
Cover the top with the upper edge.
Steam it around 30-45 minutes or till its done until a toothpick inserted into the center of a cone comes out clean.
Serve it hot with tea.
Tips
You can use banana leaf / aluminium foil / butter paper etc if Edanayila /vazhanayila / bay leaves are not available.