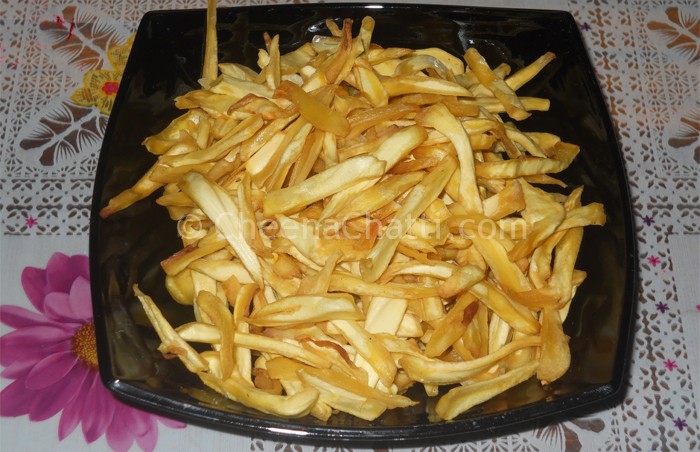 Prepration time:
30 Minutes
Persons served:
4 Persons
ingredients
Raw Jack Fruit (the edible part) : 2 cup
Coconut oil : for deep frying
Turmeric powder : a pinch
Salt : to taste
Chakka Varuthathu / Deep fried jack fruit chips is a very popular Kerala snack / Nadan Palaharam prepared by deep frying  from the Chakka Chulas (the edible yellow part of jackfruit). Since jack fruit trees are available in the yards of all most all Kerala homes, this snack is very popular in Kerala. Besides that you can store this chips in airtight containers for long time also.
Chakka Varuthathu preparation
Peel and remove the white strips from the Chakka Chulas.

Remove the seeds from each jackfruits and divide the soft flesh part into two halves.

Cut each of these halves into strips of medium thickness.

Mix turmeric powder and keep aside for 5-10 minutes.

Heat the coconut oil in large thick bottomed pan, when the oil is hot lower the flame and drop in a handful of the sliced jackfruit strips.
Stir immediately and intermittently to make sure these strips wont get stick to each other.
Deep fry until it becomes golden brown and crisp.
When they become golden brown / crispy transfer it to a kitchen tissue to remove excess oil and sprinkle salt over it.
Mix it well.
You can keep these chakka varuthathu in air tight containers for long time, provided your husband or Kids wont find it 😉