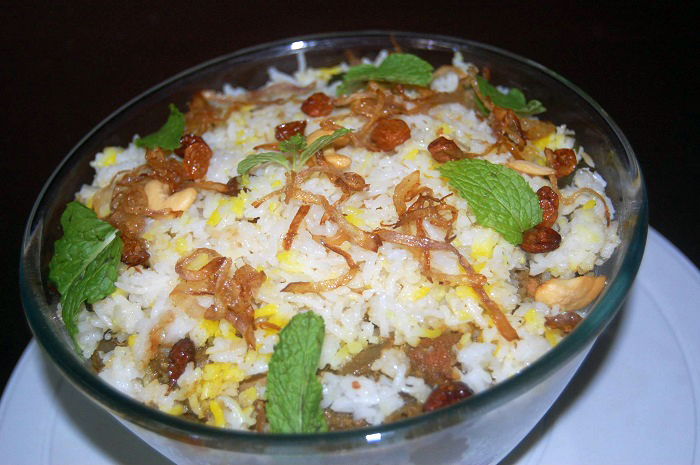 Prepration time:
1 Hour 30 Minutes
Persons served:
4 Persons
ingredients
List 1
Chicken - 500 g
Chilli Powder - 2 teaspoon
Turmeric Powder – ½ teaspoon
Salt - to taste
List 2
Green chilli - 3
Ginger - 3 big pieces
Garlic cloves - 15
Coriander leaves - half of a bunch
Pothina leaves - two hands full
Cardamom - 5
Cinnamon - 3 big pieces
Cloves - 5
Nutmeg - a small pieces
Mace (Jathipathri) - 1
Fennel seeds - 2 table spoons
List 3
Onion - 2 big, sliced thin
Curd - 1/2 cup
Oil - to fry
Tomato - 2
List 4
Basmathi rice - 3 cups
Cinnamon - 2 sticks
Cloves - 5
Cardamom - 4
Ghee - to fry
Cashew nuts - a handful
Raisins - a handful
Onion - 1
Sugar - 1 table spoon
Hot Water - 6/7 cups
Lime juice - 2 table spoon
Yellow food colour - a pinch
Chicken biryani – thats our recipe for this Eid. This delightful and quick recipe for preparing Kerala style chicken biryani will make your Eid festival rich. – Eid Mubarak to all our friends.
I am sure that biriyani / biryani needs no introduction to Indians or south Asians. For others, its one of the most flavorful, spicy and aromatic rice dish prepared in India and south asian countries. The origin of biriyani is associated with the Mughalai cuisine. It is prepared in multistep process in which rice and chicken is cooked separately and then cooked together with the alternate layers of chicken and rice.
The traditional biriyani is non vegetarian and may include chicken, mutton and sea food among types of meat. These days Vegetarian and Egg biriyanis are also available. Because of the traditional and cultural diversities of the country many varieties of Biriyanis are made through out India like Hyderabadi biryani, Thalassery biryani, Lucknowi biryani, Dindigul biryani, Aambur biriyani, Palakkad Rawther biryani etc..  which differs among the ingredients and cooking methods.
Chicken Biriyani Preparation.
Wash and clean the chicken pieces.
List 1 – Marinate them with the ingredients in list 1 and keep for 30 minutes.
List 2 – Grind list 2 in a big mixer jar with 1/4 cup of water, to a smooth paste.
List 3 – Now In a non stick pan, add oil and fry the marinated chicken pieces until half cooked and remove to another vessel.
Add half of the ground smooth paste to it along with curd and a palm full of sliced onions. Keep aside.
In a cooker, add the chicken fried oil and fry half of the sliced onions. When its translucent, add the rest of the ground masala paste and fry until raw smell disappears.
Add chopped tomatoes and fry. Later, add the chicken-curd-onion mix and mix well
Check and add salt.
Close the cooker lid and let it get cooked until two whistles comes. Switch it off and let it cool.
List 4 – Wash and dry the rice. In a large cooker, add ghee and fry cashew nuts and raisins. Remove and keep in a plate.
In the same ghee, add thinly sliced onion and fry until golden colored and add powdered sugar and let it caramelize and coat the onion. Remove when its brown.
Add a little more ghee in the same cooker and fry cinnamon, cloves and cardamom, and add the rice and fry.
Later, add 6-7 cups of hot water and mix well.
Close the cooker lid and let two whistles come. Switch off the flame and keep for 10 minutes.
Then release the pressure and toss it well.
To a heavy bottomed vessel, add a few teaspoons of ghee and add the cooked chicken gravy (Keep half cup of gravy separate) and a few pieces of chicken.
Spread a set of rice on top and layer it with fried cashew nut and raisins.
Likewise layer the biriyani and chicken pieces alternatively.
In a small vessel, add lime juice and food color and mix well. Drizzle this on the rice. Top portion should be rice.
Add rest of the cashew, raisins and spread a few pudina / Mint leaves.
Using a thin and long ladle handle, pierce holes on the rice until deep down and pour chicken gravy on each holes and add a little ghee also.
Close the lid and let it get cooked for 5-10 minutes in a very low flame.
Move the vessel to different directions in each two minutes, so that the bottom portion won't get burn.
Switch it off and let it rest for 10 minutes.
Then serve with Raitha and salad.
Tips
Try to use big chunks of chicken pieces with bones.
Use heavy bottom skillet so that biryani won't burn or stick to the pan.