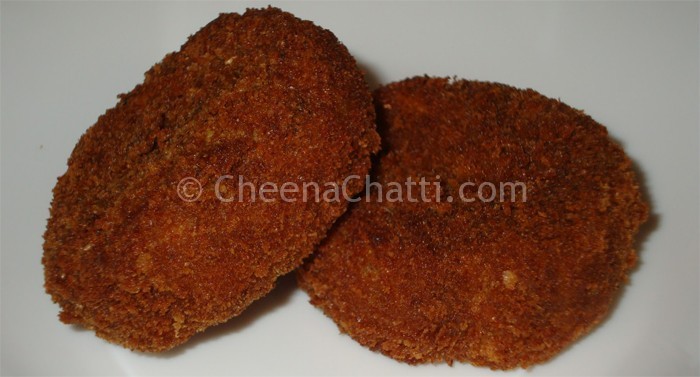 Prepration time:
30 Minutes
Persons served:
10 Persons
ingredients
Boneless chicken – 1/2 kg
Potato : 3 boiled & mashed
Finely chopped Onion : 1 big sized
Ginger (Chopped) : 1 tablespoon
Green chilli (Chopped) : 2-3
Turmeric powder : 1 teaspoon
Red chilly powder : 1 teaspoon
Pepper powder : 1 teaspoon
Garam Masala : 1 teaspoon
Bread crumbs : 1 cup
Beaten Eggs : 2
Salt : as needed
Oil : for frying
Chicken cutlets are an easy to prepare evening snack food which I am sure your Kids and other relatives will love. It is prepared from minced boneless chicken and mashed potatoes. This recipe will give you an awesome chicken cutlet. Don't forget to send us your photos or comments after you try this. This is also a good item for iftaar / Ramzan. You can also freeze this for 2-3 weeks.
Chicken Cutlets preparation
Pressure cook the potatoes and peel and mash it. Keep it aside.

Cut the chicken in to small pieces and apply the red chilly powder and turmeric powder on the pieces and keep aside for 10-15 minutes.
Pressure cook the chicken pieces with little water and salt.
Mean while in a medium sized pan pour some oil and heat it. Add the chopped onions, ginger, green chillies and saute till it turns soft.
Mince the chicken meat and add it to the pan along with the pepper powder, garam masala. Saute it for 10- 15 minutes.
Turn off the flame and allow the mixture cool for 10 minutes.
Once it is cooled add the mashed potatoes and mix well using your hands. (The mixture should hold shape when rolled into balls).
Roll out small portions of the mixture into lime sized ball and flatten it between the palms to give it shape.
Dip each cutlet in beaten egg and roll them in breadcrumbs, making sure that all sides are nicely coated.
In another pan heat the oil and fry the cutlets in medium flame  till they are golden brown.
Serve with tomato Ketchup.
Have you tried our other cutlet recipes too?