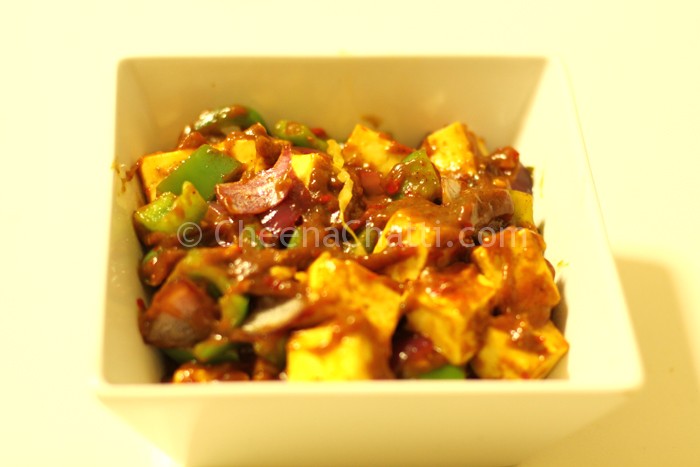 Prepration time:
15 Minutes
Persons served:
2 Persons
ingredients
250 gm Paneer
1 tsp Ginger-Garlic paste
1/2 cup Diced Capsicum
1/4 cup Diced Onion
For Slurry--
1 tsp Cornstarch
4 tsp Water
1 tsp Soya Sauce
1 tsp Red Chilly Sauce
A pinch of Aji-no-moto (MSG)
1/4 tsp Black pepper powder
Salt, to taste
2 strands Spring Onion Greens
Chilli Paneer is a very popular Indo-Chinese dish, prepared using fresh paneer cubes with capsicums-onions and stir-fried using chinese spices 🙂 Great to serve as an appetizer or works really well as a part of Chinese Sizzler!!!
Chilli paneer preparation
Cut paneer into big cubes and keep in lukewarm water for a while to soften them.
Take all the ingredients of slurry in a small bowl and mix well with no lumps.
Heat oil in a pan and add diced capsicum, onions into it.
Turn the heat high and stir-fry till onions are translucent.
Add paneer cubes and toss them gently to make sure paneer cubes are not broken into pieces.
Pour a cornstarch slurry over it and toss again.
Turn off the heat and sprinkle chopped spring onion greens.
Transfer it to a serving bowl and serve hot!!!
Want to learn more paneer recipes? check these.