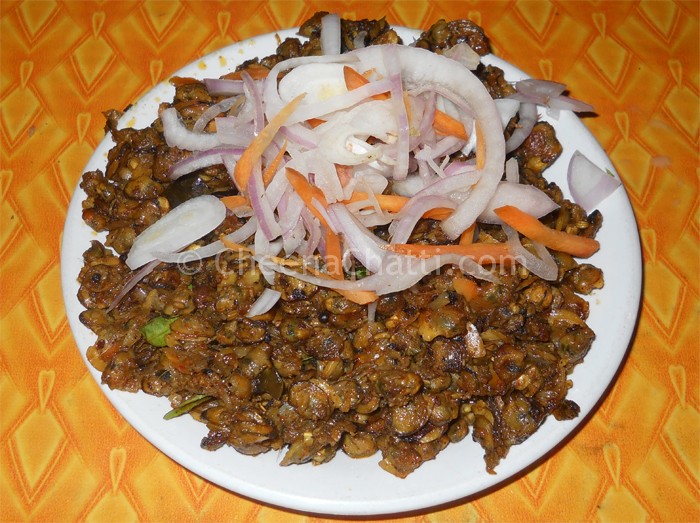 Prepration time:
45 Minutes
Persons served:
3 Persons
ingredients
Clams (Kakka Irachi) : 1/2 kg
Sliced Shallots : 1.5 cups
Crushed Garlic : 4 big cloves
Crushed Ginger : 1 inch
Curry Leaves : 2 sprigs
Turmeric Powder : 1/2 tsp
Chilly Powder : 2 tsp
Garam Masala Powder : 2 tsp
Black Pepper Powder : 4 tsp
Thinly sliced coconut : 1/2 cup
Coconut Oil : 2tbsp
Water : 1 cup
Salt : to taste
Just had an outing yesterday at Cherai beach, Paravoor. The beach is so amazing and romantic. You can occasionally spot Dolphins here.
From the road side sellers there, we purchased around 1 kg of Kakka / clams. Though I have taken Kakka irachi fry from hotels, and my home I haven't prepared it myself before. Here is my mothers recipe for preparing this kakka thoran. This goes well with rice and Pulissery.
Preparation of Clam / Kakka Irachi Ularthiyath
Clean the Kakka / clam thoroughly by pinching it laterally. Force out the greyish-black grit found inside each of them. Wash it in plenty of running water to remove any dirt and grit and finally squeeze the clams to remove water.

Into a pressure cooker with out weight add the Kakka, sliced shallots, salt, Turmeric powder, Chilly powder, garam masala powder, black pepper powder, coconut and water. Cook it for 15 minutes with lids closed.
In the mean time, in a pan add coconut oil crushed garlic, crushed ginger, curry leaves and saute till the aroma goes.
After 15 minutes put the weight over the cooker, and cook for 2 more whistles.
Turn off the flame and allow the steam to go out of the cooker.
Transfer the clams into the pan and saute in between in medium flame. Cover it with the lid.
Add coconut oil as needed and saute in between, to make the mix dry.
Tips
Don't compromise on black pepper powders. That's the one making it spicy.

On step 6 if there is water remaining in cooker, transfer that too into the pan and saute in medium flame.