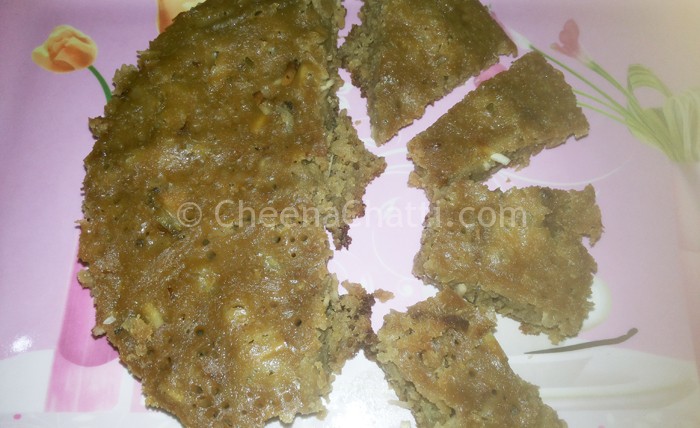 Prepration time:
45 Minutes
Persons served:
10 Persons
Cuisine:
Malabar / Kerala Muslim
ingredients
Raw rice : 2cups
Jaggery : 300gm
Coconut oil : 2tbsp
Ghee : 2 tbsp
Cardamom grinded : 10 nos
Baking soda : 3pinch
Onion large : ½ piece sliced small
Coconut flakes : 2 tbsp sliced small
Grated coconut : 3tbsp
Boiled rice : 2tbsp
Kalathappam is a Malabar (Indian / Kerala / Kannur) delicacy made from rice flour, jaggery sugar, fried onions and coconut flakes. Its more popular in Kannur. This snack is prepared in pressure cooker. I got this recipe from Shibin Dinesh. While I was in Kannur, he posted about this snack in facebook. Next day I purchased it from Sheen Bakery in Kannur and we all loved it. Back at home today, I prepared it following Shibin's recipe. It all went well and let me share the exact recipe with you.
Preparation of Kalathappam
Soak the raw rice in water for 1 to 1½ hour.

After 1 hour wash the rice 3 to 4 times and blend it in a mixer along with boiled rice and grated coconut. (Use only ½ cup water for grinding)
Transfer the batter (should be grinded thoroughly)  to a bowl, add baking soda and keep it aside.
In a pan warm the jaggery by adding one cup water to liquid form. Turn off the flame and allow it to cool.
Filter the jagerry through a sieve to the batter in the bowl, add cardamom powder and mix well. The final batter should be lighter in consistency than the Dosa batter. This determines the softness of Kalathappam.
In a pan warm the batter in low flame (

Do not boil

but stir it thoroughly while warming) and turn off the flame.
Meanwhile  in a pressure cooker add coconut oil, ghee, sliced onion, coconut flakes and saute till coconut flakes becomes brownish. (use high flame)
Add the batter to the cooker and gently mix with the contents and cover the lid

without putting the weight

of the cooker.
Wait for the steam to escape and then turn the flame to minimum and cook for 20 minutes or until a toothpick inserted into the center of the Kalathappam comes out clean.
Separate it from the sides of the cooker using a flat spoon and serve it hot with a cup of tea.
Tips
While warming the batter

do not allow to form clumps

. If any clumps are formed, turn off the flame and stir well. No further warming required.

You can use Basmati rice also, instead of the raw rice.

It should not be kept for the next day. You should finish it the preparation day itself.