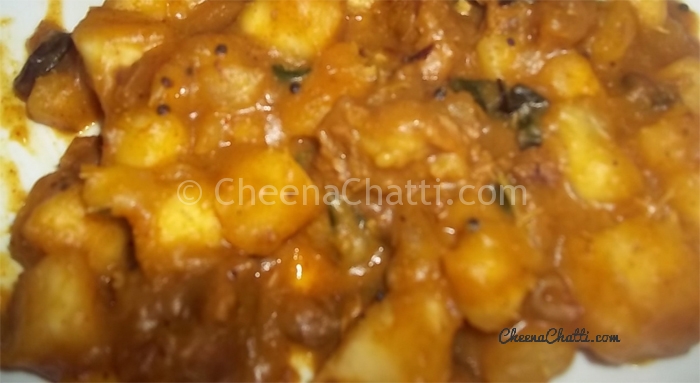 Prepration time:
30 Minutes
Persons served:
5 Persons
ingredients
Kappa / Tapioca - 1 kg
Beef - 1/2 kg
Turmeric powder - 1/2 tsp
Onions - 2 medium sized
Shallots / Kunjulli chopped - 1 tsp
Coconut oil - 2 tsp
Green chillies : 8-10 Nos
Chilli powder - 1 tsp
Coriander powder - 1 tsp
Pepper powder - 1 tsp
Garam masala powder - 1 tsp
Ginger and Garlic Paste - 1 tsp each
Mustard seeds : 1/2 tsp
Salt : As needed
Curry leaves : 1 or 2 twig
Kappa biriyani aka ellum kappayum is a mix of Kappa (tapioca) and beef (with bones). Some people call it kappayum erachiyum also. It is a food item common in middle Kerala mostly between the Christians and Muslims of Kottayam and Idukki. This is also a popular item in roadside shops (Thattukadas / Streetfood) in Kerala. In some places of Kerala this kappa & beef mixture is also known as Asiad (ഏഷ്യാഡ്). This is an easy to prepare one with less requirements. It will be better if you use the ribs of the beef for the preparation.
Kappa Biriyani recipe – Preparation
Slice the tapioca's into small pieces of roughly 2cm length and width and c

lean it well under running water.
Add salt and turmeric powder and cook it in water until kappa become soft in a pressure cooker. (Tapioca's should be fully immersed in water).
Once it is fully cooked, drain off the water completely and keep it aside.
Grind together shallots, garlic, green chilies together. Heat the oil in a pan and add the garlic paste to it then add the sliced onions,curry leaves to it and saute well.
Cut the beef with bones into small pieces same size as that of tapioca, marinate it with grinded garlic, ginger , chilly powder, coriander, turmeric powder, pepper powder, garam masala, salt and keep it aside.
Cook it in a pressure cooker until done. (Three whistles will be enough).
Move all the contents to a big vessel and mix together cooked tapioca and the beef in a big vessel.
Give low flame to the vessel to keep the mix hot while mixing.
Heat oil in a pan, Splutter mustard seeds and fry curry leaf, shallots & dried chilli for seasoning.
Add this seasoning mix to the tapioca meat mix.
Don't forget to serve it hot!