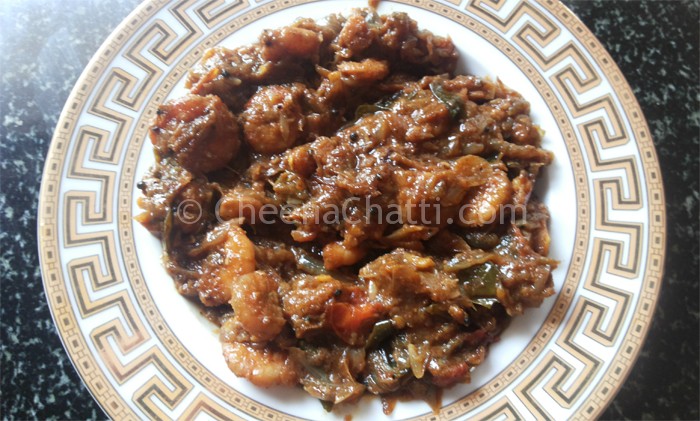 Prepration time:
60 Minutes
Persons served:
4 Persons
ingredients
Cleaned and deveined prawns : 2 cups
Mustard seeds : 1/2 tsp
Ginger crushed : 1 tsp
Garlic crushed : 1 tsp
Shallots (sliced vertically) : 1/2 cup
Onion sliced : 1 large sized
Green chilies (sliced lengthwise) : 3nos
Curry leaves : 1 sprig
Tomatoes : 2 medium sized sliced
Fenugreek powder : 1 pinch
Turmeric powder : 1/2 tsp
Red chilly powder : 1 tsp
Black Pepper powder : 1/2 tsp
Coriander powder-1 tsp
Garam masala : 1/2 tsp
Oil : 3 tsp
Salt : as needed
Prawn roast is one of my favorite sea food dish. Fortunately my mother cooks it very well. She prepares all sea food items very well. When ever I am going back to Kerala, I inform my mother in advance to collect some prawns. It is easily available in our place because of the proximity to the Neendakara Fishing harbor. Let me share this recipe with you.
Preparation of Spicy Prawn Roast.
In a pan or a clay pot heat 1 cup water along with prawns, turmeric powder, black pepper powder and fenugreek powder. Cover the lid and allow it to boil for approximately 20 minutes (till it cooked).

Mean while, heat a frying pan and pour oil. Add the mustard seeds and when they starts crackling add the shallots, onion, sliced green chillies and curry leaves. Saute it very well till the onion becomes brownish.
Add the tomatoes, ginger, garlic, red chilly powder and coriander powder to the pan and saute it.
When the prawns are cooked, add the #3 to to the clay pot along with garam masala and salt. Mix it and cook for 10-15 minutes.
When the water dries up, add 1 tea spoon oil to the pot and saute well.
Serve it along with steamed white rice.
Tried it?
If you have tried it let me know how it went. I will be very happy, if you love my mothers dish.