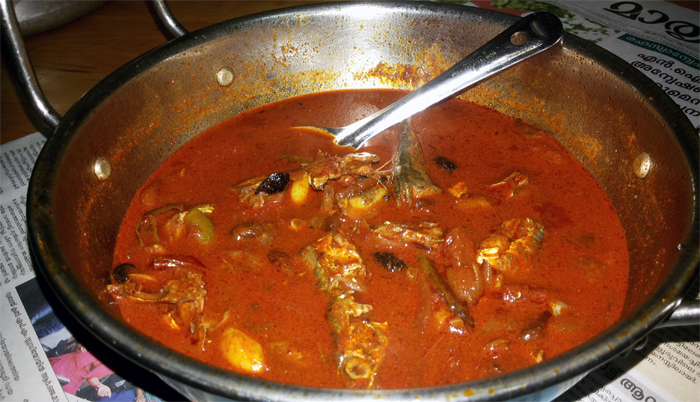 Prepration time:
30 Minutes
Persons served:
6 Persons
ingredients
Mathi / Sardine / Fish : 500g
Mustard Seeds : 1/2tsp
Ginger : 2tsp finely chopped
Shallots (Chuvanully / Sambar onion) : 10 Sliced
Garlic : 8 cloves
Chilli powder : 2 tsp
Coriander powder : 1 tsp
Turmeric Powder : 1/2 tsp
Fenugreek Powder (Uluvapodi) : 1/4 tsp
Gambooge (Kudam puli) : 2 piece
Curry leaves : 4 spring
Tomatoes : Medium sized sliced
Salt : 1/2 tsp
Coconut Oil : 2 tbsp
Greenchilly : 3 nos vertically sliced
This is an easy recipe to prepare authentic and traditional Kerala style sardine fish curry recipe.  You can take it as a side dish with Kappa (Tapioca) / hot Kerala rice / Pathiri / Porotta / Appams.  Sardine, (popularly known as Mathi, Chaala in Kerala), is one the cheapest, popular and the tastiest fish available in South India.
Health Benefits
Sardines are rich in Omega 3 fatty acids, which is good to lower your LDL Cholesterol to prevent heart diseases and is also good for your skin and hair. The small bones of Sardine is good resource of calcium.
Sardine curry preparation
Soak gambooge in half cup of water for 20 minutes. Cut each fish into 2-3 pieces and clean it thoroughly and rub them well with salt / rock salt to avoid the smell.
Heat coconut oil in a manchatti / clay-pot and add mustard seeds.
Add sliced shallots when you hear the crackling sound of mustard seeds and mix it till it changes color.
Add chopped ginger, garlic cloves, sliced green chillies and saute until garlic cloves become slight yellow.
Add sliced tomatoes and saute well until you get a nice aroma.
Warm coriander powder, chilly powder, turmeric powder and  fenugreek powder in a pan
Make #6 into a paste in a mixer with little water and add it to the pot.
Rinse the mixer jar and add the rinsed water to the pot.
Add sliced gambooge along with the water used for soaking, remaining curry leaves and salt.
Add more water to the desired volume.
Allow it to boil and add the fish pieces.
Cook covered on medium flame till the fish turns soft and oil separates.
Now open the lid and cook until the gravy reduced to half.
Turn off the flame and cover the pan with the lid. Keep it idle for some time to blend the spices, souring agent and fish.
Tips
Almost all fish vendors sell sardines, but only a few give it cleaned. Cleaning sardines takes time. The strong smell of sardine can stink your hand and even your clothes. Use an apron while cleaning sardine and after cleaning wash your hands with soap multiple times.
If the curry tastes too sour, take out some gambooges back.
Add more tomatoes to the preparation if you want to make it more tasty.
Add chilly powder to make it more spicy.
Frying sardine can make veggies go mad with you, because it has an extreme strong smell. Careful when you fry sardines, they have a bad reputation for its stink.
You can also try more fish curry recipes from our collection.