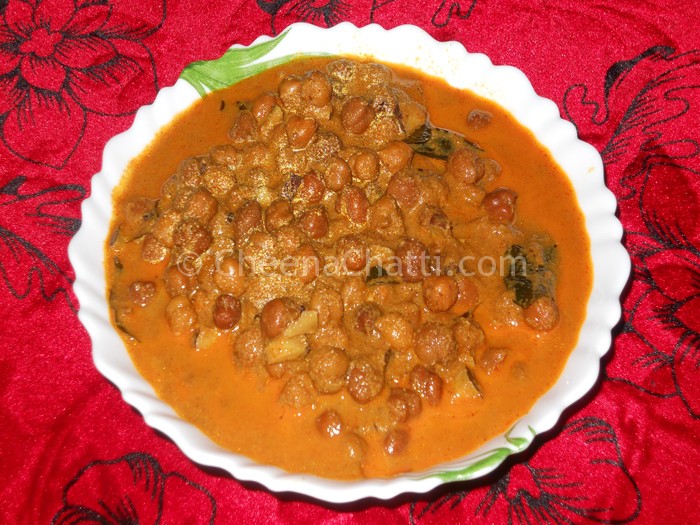 Prepration time:
45 Minutes
Persons served:
4 Persons
ingredients
Brown chickpeas / Chana / Kadala : 1cup
Turmeric powder : 1/2 tsp
Coconut pieces, sliced small : 1 - 2 tbsp
Shallots, vertically sliced : 5 nos
Green chillies, sliced small : 6nos
Ginger chopped : 1 tsp
Garlic chopped : 1tsp
Grated coconut : 1cup
Cumin seeds (Jeerakam) : 1/2 tsp
Cinnamon stick (Karukapatta) : 2 nos
Star anise (Thakolam) : 1 petal
Fenugreek (Uluva) : 1/4th tsp
Coriander powder : 2 tsp
Red chilli powder : 1tsp
Garam masala powder-1/4tsp
Curry leaves : 2 sprig
Mustard seeds : 1 tsp
Water : as required
Salt : as required
Coconut oil : 2 tbsp
Kadala curry served with Puttu is the most common breakfast food in Kerala. Almost all Keralites love this classic breakfast dish.
Preparation of Kadala curry
Soak black gram  in water for 8 hours and drain the water completely.
Pressure cook the drained Kadala (Chickpeas) along with salt, turmeric powder, coconut pieces, green chillies, shallots, chopped ginger & garlic and 1 cup of water up to 8 whistle or till Kadala become soft.
Meanwhile in a pan pour 1 tbsp coconut oil, and when it become warm add cinnamon stick, star anise, fenugreek and saute till brown.
Add grated coconut, cumin seeds, one shallot to the pan and roast it till it becomes brown.
Allow the ingredients to cool and blend it into a fine paste by adding a little water in a mixer.
In another pan  pour 1tbsp coconut oil, splutter mustard seeds and add curry leaves, coriander powder, red chilli powder and saute till it becomes warm.
Transfer the ingredients in the cooker along with water and the grounded paste in the mixer  to the above pan and mix well.
Sprinkle garam masala , mix well and cook for another 10 minutes with the lid covered.
Serve the Kadala curry hot with Kerala puttu, Chiratta puttu, Appam, Idiyappam etc..
Tips
If you prefer not to use coconut, Skip the steps 3, 4 and 5.
You can use chilli powder according to your spice level.
You can use water until the gravy achieves your desired consistency.