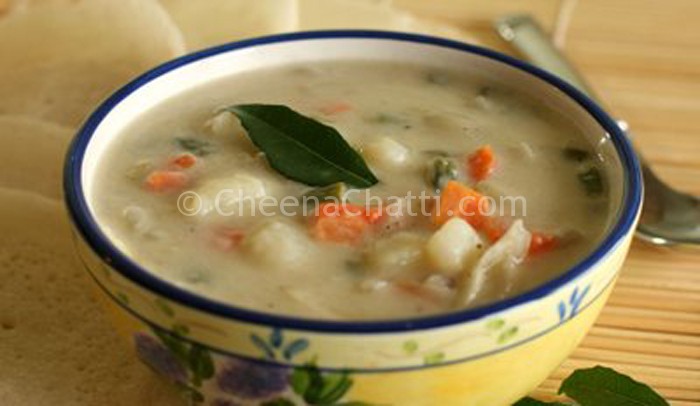 Prepration time:
30 Minutes
Persons served:
3 Persons
ingredients
Carrot : 1
Potato : 1
Green Peas : ½ cup
Nutmeg (finely sliced) : ½ tsp
Onion finely sliced : 1
Green chilly (slit) : 5
Crushed Ginger : 1 tbsp
Crushed garlic : 1 tbsp
Cardamom : 3 nos
Powdered black pepper : 1 tsp
Cinnamon : 1 piece
Cloves : 3 nos
Thin coconut milk :1½ cup
Thick coconut milk : ½ cup
Curry leaves : 1 sprig
Salt : as needed
Butter or coconut and oil : 2 tbsp
Vegetable stew is a global dish made from a mixture of vegetables like Carrot, potatoes, green peas etc which goes well with pathiri, puri, appam, bread or rice. These ingredients can include any combination of vegetables. The usage of coconut milk as an ingredient gives it a typical Kerala flavor.
Vegetable stew preparation
Slice the vegetables into cubes of 1/2 inches and clean them well.
In a deep bottom frying pan, heat the butter or coconut oil.
Add the onions to it and saute it till the onions become transparent.
When the onions become transparent splutter the crushed spices.
Add the ginger, garlic, curry leaves and the green chillies and saute it for a few more minutes.
Add the sliced vegetables and saute well.
Now add the thin (second) coconut milk, salt and bring it to boil
Lower the flame, cover and cook it till vegetables are soft. This will take around ten minutes time.
Now add the thick coconut milk (first) and cook for another five more minutes.
Remove from stove and transfer it into a serving bowl.
Garnish with curry leaves fried in coconut oil or ghee.
Tips
The stew gravy will be thick and if you want to make it thin add 1/2 cup of plain milk to this
If you want the gravy to be very thick soak 7-8 pieces of cashew nuts in warm water and grind them into a smooth paste and add it in the last. Mix with the  thick coconut milk and add to the stew.