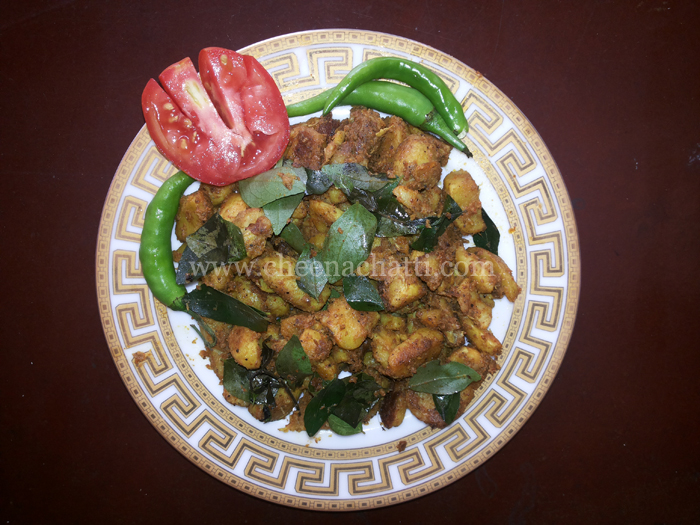 Prepration time:
30 Minutes
Persons served:
4 Persons
ingredients
Chinese potato / Koorka : 500 gms
Small onion / Shallots : 10
Garlic : 5 cloves
Dry red chillies - 3 nos
Turmeric powder : ½ tsp
Chilli powder : ½ tsp
Garam masala : ½ tsp
Coconut bites : 1 cup
Water : ½ cup
Mustard seeds : ¼ tsp
Coconut oil : 1 tsp
Salt : as needed
Curry leaves : 1-2 sprigs
Hi friends, its a long time since I posted a recipe here. Sorry for the delay. Got busy with my studies 🙂
Koorka season is back in Kerala now. I am sure, Koorka (Chinese potato) needs no introduction to any Keralite. Here I will serve a simple, but traditional Kerala recipe for Koorka thoran / Koorka mezhukupuratti recipe.
Koorka thoran recipe
Wash the Koorka well and remove the mud from it.
Peal the skin using a knife or peeler.
Wash it again well under running water and cut the koorka into small pieces.
Pressure cook them with coconut bites, turmeric powder, salt and with enough water to cover the whole pieces. Or you can cook them in a covered vessel too. Do not over cook it.
Heat a pan, and add 1 tsp coconut oil. When it becomes hot, add the mustard seeds.
Crush the shallots, garlic cloves, red chillies and add it to the pan when the mustard seeds starts cracking.
Add chilli powder, garam masala and curry leaves too and saute it till the onions becomes brownish.
Add the cooked potatoes and saute it under low flame for 10-15 minutes.
Remove from fire and add 1 tsp of coconut oil, a few curry leaves and mix well.
Transfer to a serving bowl and serve with rice.
PS : to clean the Koorka easily soak it in water for 10-15 minutes and rub it over a rough, hard surface.