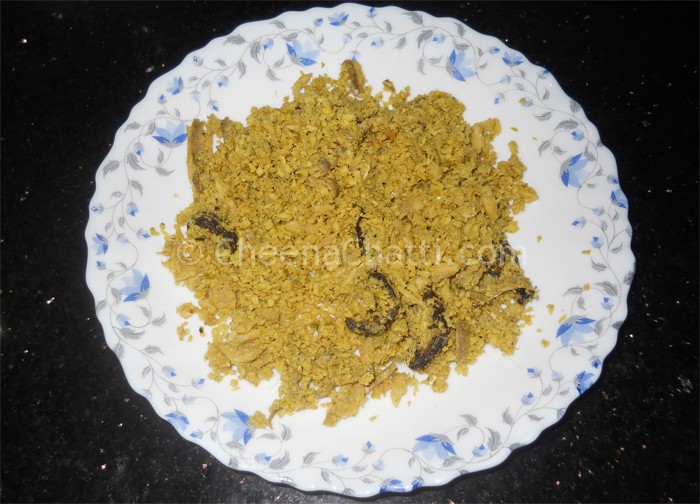 Prepration time:
45 Minutes
Persons served:
4 Persons
ingredients
Anchovy fish / Small Sardines : ½Kg
Shredded coconut : two cups
Soaked Gambooge (Kudampuli) : 1 no
Ginger : 2 inches
Garlic : 10-12 cloves
Green chillies : 4 or 5nos
Shallots : 6-7 sliced
Turmeric powder : ½ tsp
Raw mango: 1 meidum sized (sliced into small pieces)
Curry leaves : 2 sprig
Salt : to taste
Tamarind : 3 or 4 pieces
Coconut oil : 1 tbsp
Water: ½cup
Meen peera "Fish stir fry with coconut" is an exclusive Kerala fish curry. Its also an easy to prepare fish curry with minimum steps. Usually Keralites prepare Meen peera with the small fish Anchovy (locally called as Chooda or Natholi). Some time even small sardines are also used. Meen peera is usually served as a side dish for boiled rice.
Meen Peera Preparation
Soak the gambooge in water for half an hour.
Clean the Anchovy (Natholi / Chooda) / Small Sardine (Mathi) well and transfer it to an clay pot (or a pan) with water.
Coarsely crush the shredded coconut, ginger, garlic, green chillies, shallots, turmeric powder (#3).
Add salt, mango pieces, curry leaves to the earthen pot.
Add the ground paste to the pot.
Slice the soaked gambooge and add it to the pot.
Cover it and cook it for 15-30 minutes (depending on type of fish), till the fish is done, in medium flame.
Uncover it and let the water evaporates completely.
Add coconut oil and mix it well in low flame for 2-3 minutes.
Keep covered until serving.
Enjoy serving with boiled rice and curd 😉
Tips
As we are using both mangoes and gambooge together, it may become more sour. You can adjust the sourness by removing excess gambooge pieces while cooking.