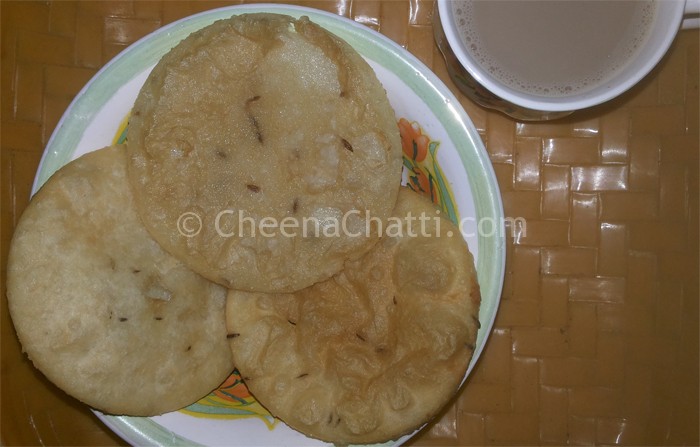 Prepration time:
30 Minutes
Persons served:
3 Persons
ingredients
Rice Flour / Aripodi : 2 cups
Grated coconut : 1 cup
Cumin seeds : 2tsp
Shallots onions / Kochulli : 4-5 nos
Ghee : 1 tsp
Salt : as needed
Coconut oil : for frying
Water : 1 cup
The holy month of Ramzan is coming and I think I should share some Malabar recipes / Iftaar recipes this week. Ney pathiri aka Ney pathal or deep fried rice rotti is a very common breakfast / dinner dish in northern Kerala especially in Kozhikkode and Malabar.
Ney pathiri Preparation
In a pan warm 1 tsp ghee and when its hot add water.
When the water boils add the flour and warm it for some time in low flame and then turn off the flame.
Sprinkle the salt.
Blend the grated coconut along with cumin seeds and shallots into a coarse form (do not make a paste) in a mixer with a single spin.
Add the blended mix to the flour and knead it into a smooth dough similar to pathiri (See the pathiri dough preparation).
Roll out small portions of the dough into lime sized ball and flatten it between the palms to give it shape.
Using a pathiri press / chappathi press / chapathi roller flatten each balls into thick disc shaped flat breads (with a thickness of 2-3 pooris).
Pour coconut oil in a pan and heat it. When it becomes hot drop 1-2 pathiris (depending on the pan size) to the oil.
When they start puffing up flip them and fry until they become crispy.
Enjoy hot with a cup of tea.
Tips
Can be served as a breakfast food along with Chicken curry / Fish curry / Mutton curry.
You can use All purpose flour / Maida instead of rice flour too.
Have you seen other pathiri recipes?