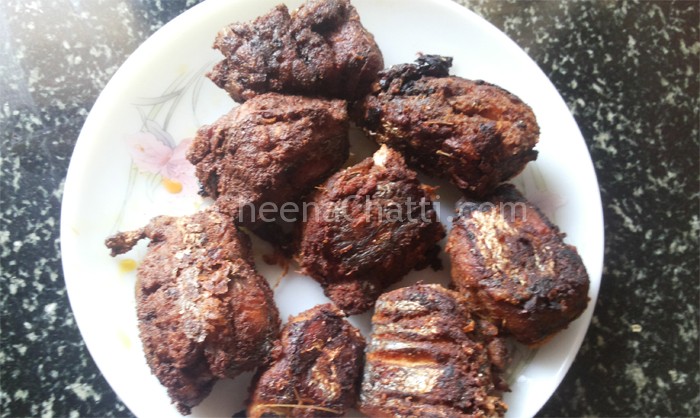 Prepration time:
30 Minutes
Persons served:
3 Persons
ingredients
Fish steaks : 5 (You can use any fish)
Black Pepper Powder : 1 tsp
Turmeric Powder : 1/4 tsp
Dried red chilly : 6 nos
Red Chilly Powder : 2 tsp
Ginger chopped : 1 tsp
Garlic : 5 cloves
Lemon juice : 1/2 tsp
Coconut Oil / Vegetable oil : for frying (coconut oil preferred)
Curry leaves : 1 sprig
Salt : to taste
I love to have Neymeen curry or neymeen fry, which we prepares at my home in Karunagapilly. This has an amazing taste because its prepared by my Mom and we are using fresh neymeen which we get from the Neendakara Harbor. Neymeen is a tasty fish available through out South India. This fish is also called ' Vanjaram' /  'Aiykoora' in Northern Kerala and Southern coastal Karnataka. Some people also call this as "King Mackerels".
Seerfish fry (Neymeen fry) preparation
Clean the fish and cut into small pieces depending on the kind of fish you are using.

Make oblique incisions about 5cm apart on both sides of the fish pieces so that the marinade seeps through.
In a mixer, make a thick paste of Pepper powder, Turmeric powder, Red chilli powder, ginger, garlic and salt with 2 tablespoon water.
Add the curry leaves into the paste and mix with a spoon.
Apply the paste on the fish pieces one by one. Make sure the marinade goes deep into the incisions and keep it aside for 1/2 hour to 1 hour in a refrigerator.
Heat a pan, and add the coconut oil. When the oil gets heated, shallow fry the neymeen pieces on medium heat.
Flip the neymeen pieces carefully after 2-3 mins  and fry for another 5 minutes.
Once the fish become crispy lower the flame and take it out into a tissue paper.
Fry all other pieces also in the same method.
Grind the red chillies and just warm it in a pan with 1 tsp of coconut oil. Sprinkle these red chilly powder over the fish fries.
Sprinkle the lemon juice and garnish with curry leaves, sliced onions and serve hot along with rice or appam.
Tips
You can also fry the vertically sliced onions along with the grinded red chillies in the coconut oil for garnishing.

You can use any fishes instead of Neymeen / Seer fish like Tilapia, Pomfret (Avoly) etc.
Dont forget to post your comments and ratings after trying this. You can see our other fish recipes collections too.
Have you tried our other fish fry recipes too?