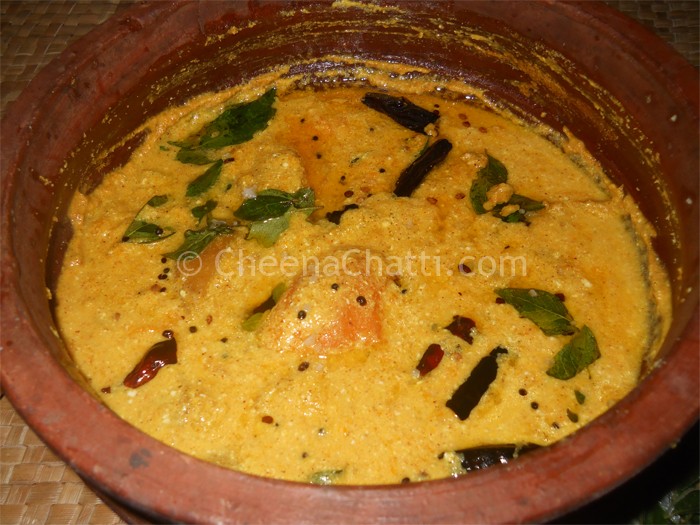 Prepration time:
45 Minutes
Persons served:
4 Persons
ingredients
Ripe mangoes (small sized variety) : 8nos
Turmeric powder : ½ tsp
Red chilli powder : 1 tsp
Scraped coconut : 1/2 coconut
Cumin : 1 tsp
Thick curd, a little sour (beaten) : ½ Litre
Fenugreek powder : 1 tsp
Coconut oil : 1 tbsp
Mustard : 1 tsp
Dry red chillies (cut into 2) : 2
Curry leaves : 10-12
Salt : to taste
Mango mania is back again!
Today I will share with you a great recipe which is a combo of sweet and sour, the ripe mango curry (pazham manga curry). This is an authentic and traditional Kerala dish. Mambazha pulissery is a part of Grand Kerala Sadya (the feast) cuisine also.
This is an easy to prepare dish which goes well with parboiled rice.
Ripe mango curry recipe
In a cup of water cook the ripe mangoes, chilli powder, turmeric powder and salt.
Using a mixer, grind the coconut and cumin into a fine paste.
Add the above paste (#2) to the mangoes (#1)  when they begin to cook.
When the coconut and mangoes have cooked evenly, add the beaten curd.
Cook for a very short time 

(Do not allow the curd to boil)

 and remove it from the stove.
Allow it to cool lightly and then sprinkle the fenugreek powder over it.
In a pan heat the oil add the curry leaves, mustard, dry red chillies and stir to fry them.
Top the mango curry with the stir fried mix .
Serve it hot with parboiled rice.
Your pazham manga / ripe mango curry is ready to serve.