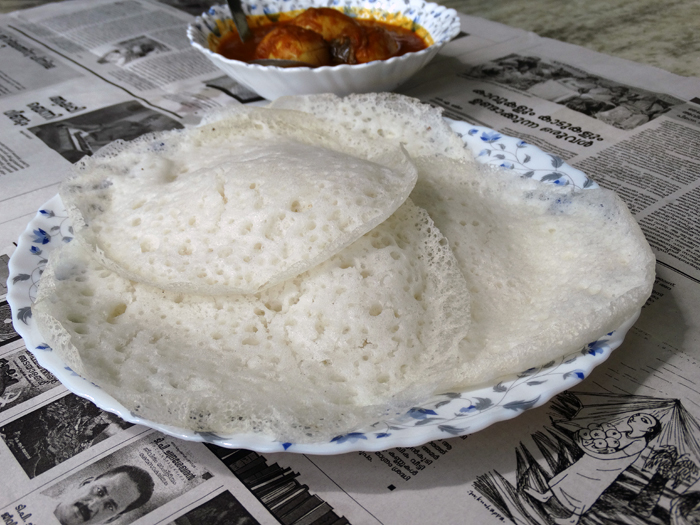 Prepration time:
30 Minutes
Persons served:
6 Persons
ingredients
Raw rice : 1/2Kg,
Boiled rice : 1 medium spoon
Baking soda : 1/4tsp,
Salt : 1/4tsp
Today I will share one of the best traditional breakfast recipe of Kerala – "appam / Velleappam". This is basically steam cakes made from raw rice. This batter is prepared without using any yeast for fermentation. If you are looking for palappam recipe with yeast, you can read our other post on making of palappam.
Appam can be served with Chicken roast / egg curry / Bengal gram curry /Green gram curry / Sardine curry. Vegetarians can serve appam with vegetable stew or any vegetable curry. Use raw rice (pachari) if possible. To get soft and fluffy appam use a separate "appachatti", exclusively for appam making.
Preparation of the appam batter
Soak the rice for about 6-8 hours in water.
Wash the rice three to four times and drain thoroughly.
Grind the raw rice and the boiled rice together to a fine paste.
Add baking soda.
Keep it for 6-8 hours.
Add salt to the mixture and keep it for one more hour.
Heat kadhai ("appachatti"), smear little coconut oil on it.
Pour one spoon full of batter in the pan and rotate the pan in circular manner to get the circular shape of appam.
Put a tight lid on it and within three minutes appam is ready to have!!
Serve it hot with Chicken roast / egg curry / Bengal gram curry / Sardine curry.
Tips
It will be easier to grind raw rice if you add the boiled rice first.

Keep three spoon of batter for the next day.  Add it to the mixture to grind (Step 3) next day preparation and it will make the appam more soft. The same can be kept in refrigerator if you are not preparing more appams next day.