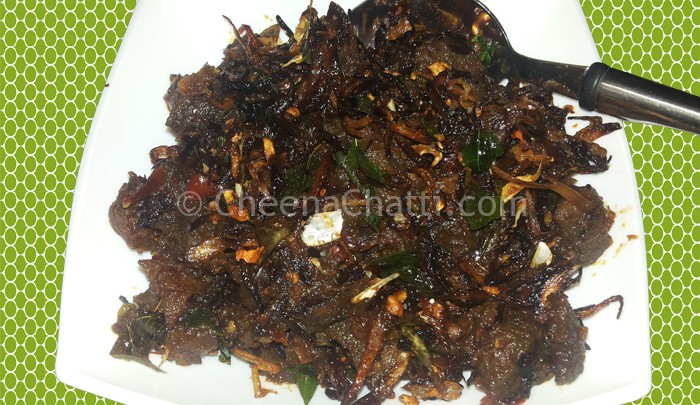 Prepration time:
45 Minutes
Persons served:
4 Persons
ingredients
Beef :1 kg
Turmeric powder : 1/4 tsp
Red Chilly powder : 2 tsp
Black pepper powder : ½ tsp
Garam masala : ½ tsp
Coriander powder : 1 tsp
Dried red chilly : 10 nos
Green chilly :3 nos (sliced, vertically)
Onion : 3 medium sized (sliced, vertically)
Ginger (chopped) : 2tbsp
Garlic(chopped) : 1 tbsp
Curry leaves : 3 to 4 sprigs
Salt to taste
Coconut oil
Last Sunday the newly wedded couples gave us a visit at home and I was really worried on what to give them for their first visit. With my Husband, I decided to prepare the my mom's special beef roast (beef ularthiyath). We quickly arranged all other dishes and started preparing the beef roast for them. The couples enjoyed all our dishes and especially the beef roast. Enough of praising my food, you will get bored. Try this recipe and I am sure you will also love it.
Kerala Beef Roast Recipe preparation.
Cut the beef it into bite sized pieces and wash it well under running water.

Pressure cook the pieces along with turmeric powder, red chilly powder, black pepper powder, coriander powder, garam masala, chopped ginger (1tbsp) and salt with 1 cup of water (6-8 whistles).
Grind the dried red chillies into a fine powder in a mixer.
In a pan, pour 2 tbsp coconut oil and add the ginger (remaining 1tbsp), garlic, green chilly, curry leaves, onion and saute till it turns light brown.
Add the grinded red chillies to the pan and saute.
Add the cooked beef to the pan and mix it well. If needed add some more coconut oil.
Cover the lid and keep it in medium flame for 20 minutes. You can saute it in between.
Try our other beef recipes too.