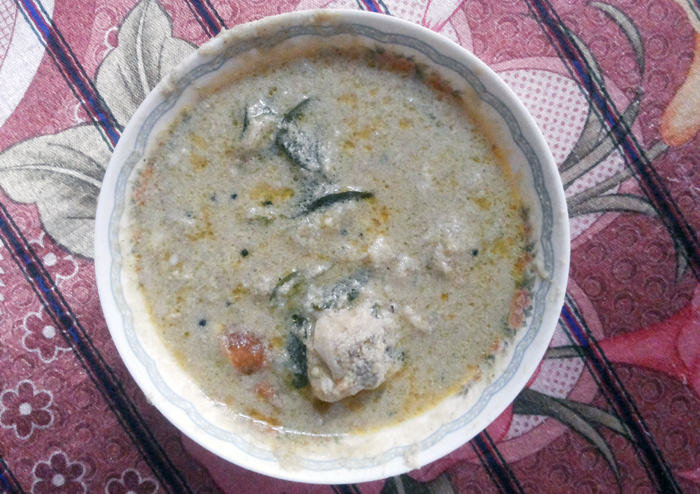 Prepration time:
45 Minutes
Persons served:
4 Persons
ingredients
Red Snapper / Chemballi fish : ½Kg
Green chilly : 5 nos (Vertically sliced)
Garlic : 7 cloves (Vertically sliced)
Onion : 1 medium sized (Vertically sliced)
Ginger : 2 inch piece (Chopped )
Curry leaves : 2 sprig
Tomato : 1 medium sized (Vertically sliced)
Mustard seeds :1 tsp
Grated coconut : 1½ cup
Turmeric powder : 1/4 tsp
Corainder powder : 1 tsp
Red chilly powder : ½ tsp
Shallot onion (Kochulli) : 1 no
Fenugreek powder : 1 pinch
Coconut oil : 2 tbsp
Salt : as needed
Have you ever tried Kollam fish curry? If not, definitely you should try this at least once. I love the fish curry prepared by mother for the breakfast dishes like Kerala Appam, Idiyappam, Pathiri etc. This is an entirely different preparation from the usual fish curries which we serve with lunch / rice.
Kollam Fish curry preparation
Clean and cut the fishes into small medium sized pieces.

In an earthen pot, pour coconut oil and when it becomes hot splutter the mustard seeds.
Add chopped ginger, garlic, green chillies and curry leaves and saute it.
When the aroma goes add sliced onions and saute it till the onions becomes brown.
Add the sliced tomato pieces and saute it.
Grind grated coconut, turmeric powder, coriander powder, red chilly powder and shallot onion (Kochulli) along with one cup of water to a fine paste.
Add the paste (#5) to the pot (#4).
Add the fish pieces to the pot. Add water as needed, depending on the thickness of gravy you need.
Cook till the fish becomes soft.
Tips
The best fishes to be used for this curry are : 




Red Snapper known as Pahari / Chemballi ( in Malayalam) , Sankara / Paruthi vela (in Tamil), Kora /thundava / rangu (in Telugu).




Pomfret known as Avoli (in Malayalam), Vavval (in Tamil) and Nalla Chanduva / Tella chanduva (in Telugu)