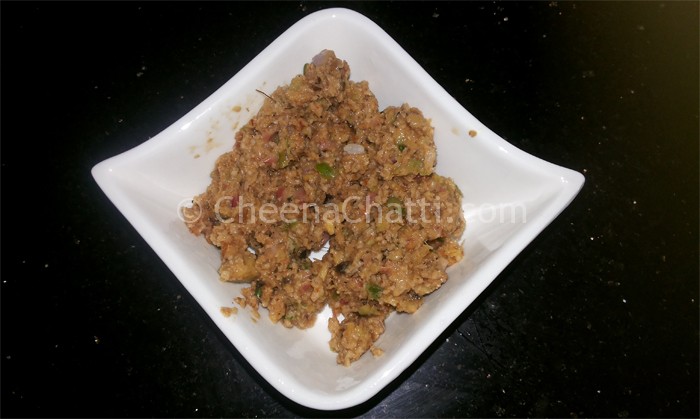 Prepration time:
15 Minutes
Persons served:
3 Persons
ingredients
Grated Coconut : ½ cup
Dried red chillies : 5 nos
Green chillies : 1 nos
Shallot onions : 4 sliced
Ginger : 1 tsp, chopped
Tamarind : size of a small lime
Salt : as needed
Coconut Oil : as needed
Curryleaves : 3-5 twigs
Sliced Mangoes : 1 piece (Optional)
Let me share an easy but tasty exclusive Kerala cuisine – Thenga chammanthi recipe with you. I  am sure that this dish needs no introduction to a Keralite. Its such a popular dish in Kerala. Seeing the photo alone will fill a Keralite's mouth with enough saliva. This is a nostalgic item for all Keralites.
Though its an easy to prepare dish, with minimum ingredients its really tasty one.  It is very simple dish which anyone could give a try and Its assured that there wont be any failures. Enough about the description, let me tell you how to make it.
Thenga chammanthi recipe
In a pan pour 1 tea spoon coconut oil and lightly warm up the red dry chillies.
Grind the red chillies along with grated coconut, green chillies, shallots, ginger, tamarind (Valanpuli or sambar puli), sliced mangoes and salt. (Add little water, if you are not using the mangoes).
Blend it smooth but slightly coarse.
Transfer it to a serving bowl.
You can serve it with rice, kanji or idli & dosa.
Tips
For the real Kerala taste use Ammikallu  ( Sorry I don't know the english name for this 🙁 ) for grinding and Kanthari mulaku (Birds eye chilli) instead of green chillies.
You can decorate it with curry leaves and green chillies.
Have you tried our other chammanthi recipes too?