Egg masala curry recipe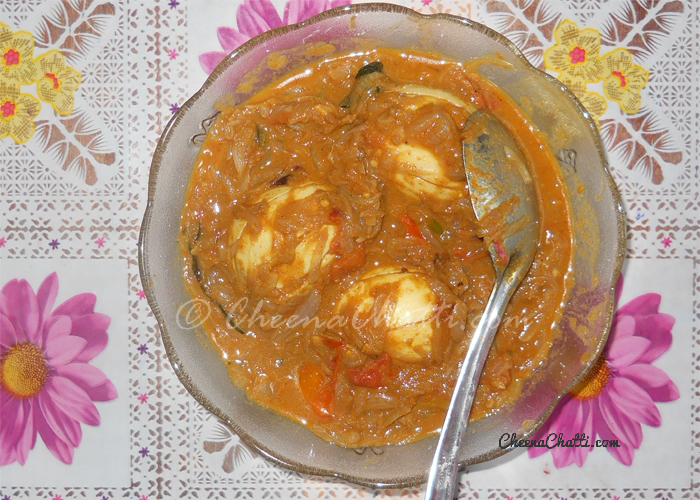 Ingredients
Boiled egg : 6 Nos
Onion : 3 medium sized, vertically sliced
Green chillies : 5Nos vertically sliced
Tomatoes : 1 medium sized sliced
Chilly powder : 11/2 tsp
Coriander powder : 3 tsp
Garam masala : 1/2 tsp
Turmeric Powder : 1/4 spoon
Garlic : 8 cloves
Coconut oil : 3tsp
Curry leaves : 1 stem
Water : as needed
Salt : as needed
This morning we had my mom's special egg masala curry with Appam. I will share the recipe for the same here.
Try this recipe and let me know your feedback.
Egg Masala Curry Preparation:
Grind the garlic into a paste in a mixer.

Add coconut oil to the pan and add sliced onion, green chillies and saute till onion become brownish.

Add tomato, garlic paste (#1), curry leaves to the pan and cook till tomatoes become soft.
Add the masala's to the pan and saute. (if needed, coconut oil can be added).
Drop the eggs into the pan and mix it well with the mixture.
Cover the lid for 5 minutes in a low flame.
Add water, salt, garam masala and cover it with the lid.
Cook for 15-20 minutes.
 Tips
This entry was written on February 4th, 2017 by
Renoos
in
Gravies and Curries
and tagged with
indian egg curry
,
how to make egg masala
,
egg curry
,
egg curry kerala
,
kerala style egg curry
,
how to make egg curry
,
egg
,
curry
,
egg masala curry
. Last revised on
February 11th, 2017.
More mouth watering recipes!