Mulaku Bajji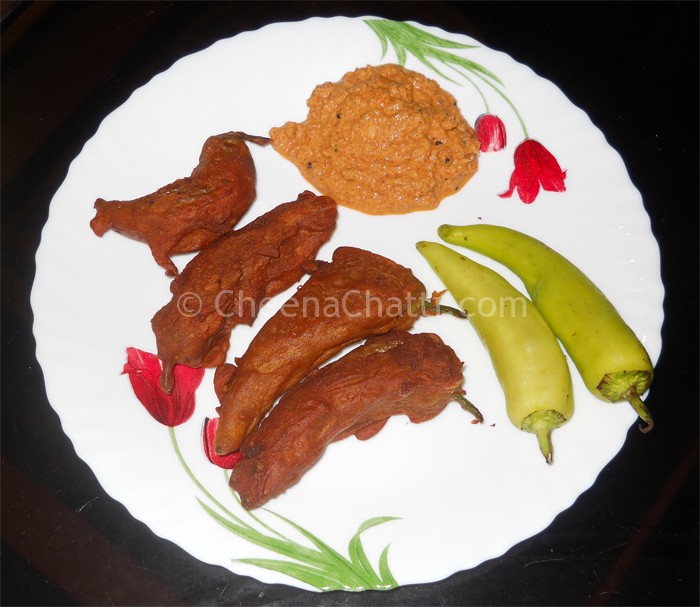 Ingredients
Banana pepper / Koda mulaku - 10nos
Besan flour (Kadalamavu / chickpea flour) : 1 cup
Rice flour : 2 table spoon
Soda Bicarbonate / Baking soda : 2 pinches
Chilli powder : 2 teaspoon
Turmeric powder : 2 pinches
Water : 1/2 cup
Salt : as required
Oil : for deep frying
Ramadan Kareem to all our followers. Its the first day of the Holy month. For the evening snack today, myself and my sister prepared Mulaku Bajji along with red coconut chutney.
Mulaku Bajji aka as Banana pepper fritters is a popular road side tea stall snack in South India. Its prepared by deep frying the batter coated banana peppers.
Preparation of Mulaku Bajji
Make a thick batter using besan flour, rice flour and baking soda with water as needed.

Add chilli powder, turmeric powder and salt to the above batter and mix well using hand.
Keep the batter idle for 30 minutes.
Meanwhile wash the banana peppers and make a slit lengthwise on either sides but without separating at both ends.
Heat oil in a frying pan and allow it to boil.
When the oil becomes hot, dip/roll each bajji mulagu in to the batter and coat it evenly with the thick batter.
Drop it carefully into the hot oil and flip both sides in between.
Fry till both sides become golden brown and transfer to a plate with kitchen tissue paper.
Enjoy it hot with red coconut chilly chutney.
Tips
Batter should be thick  enough so as to cover the banana pepper.
This entry was written on October 6th, 2016 by
Renoos
in
Andhrapradesh
and tagged with
mulaku bajji recipe
,
molaga bajji recipe
,
mulaku baji recipe
,
snacks
,
molaga bajji recipe kerala
,
chilli bajji recipe
,
evening snack
,
chilli pakora
,
chilli bajji
. Last revised on
October 14th, 2016.
More mouth watering recipes!