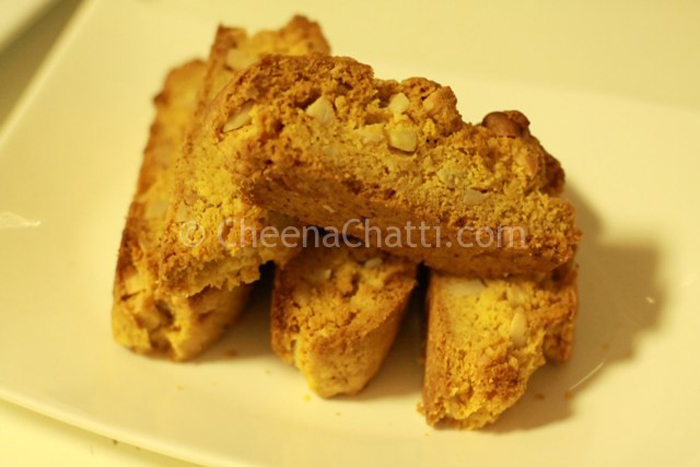 Persons served:
5 Persons
ingredients
1 cup All-purpose Flour
1 tsp Baking Powder
1/4 tsp Baking Soda
1/2 cup Chopped Almonds
1/4 cup Sugar
1/2 tsp Vanilla Extract
1/4 cup Oil
A pinch of Salt
Water, as required
Almond biscotti are great side dish or dipper in coffee, tea or milk. Some people love to enjoy them by itself as a quick snack.
Biscotti are snacks with Italian origin. They are twice-baked biscuits which are oblong-shaped, made dry and crunchy through cutting the loaf of dough while still hot and fresh from baking in the oven. As they are very dry snacks biscotti traditionally are served with a drink, into which they may be dunked. You can learn more about biscotti and its influence on Italian Culture from this Wiki article.
Preparation of Almond Biscotti
Sieve maida, baking powder and baking soda in a big bowl.
Add rest of all ingredients in it and mix well.
Knead a soft dough by adding water gradually into it.
Prepare a log out of it and arrange it on a lined baking tray.
Bake it in pre-heated oven on 180° for around 20 mins. Then after, transfer it to a cooling rack and let it cool down to room temp.
Cut the log into slices of your preferred thickness.
Bake them again in pre-heated oven for 10 more mins.
Serve with a cuppa tea or coffee!!!
Tips
You can replace almonds with any of your favorite nuts!!!