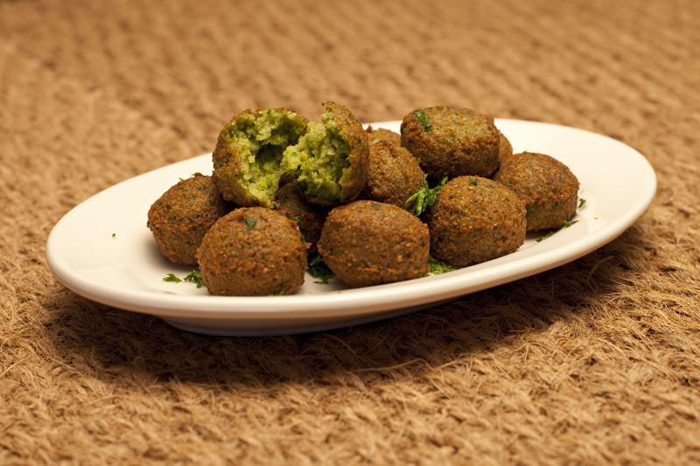 Prepration time:
45 Minutes
Persons served:
10 Persons
ingredients
Dried chickpeas : 2 cups
Onion : 1 cut in quarters
Garlic cloves : 4-5 chopped
Fresh Coriander leaves / Cilantro : 1 cup chopped (OR)
Fresh Parsley leaves : 1 cup chopped
Salt : 2 tsp
Coriander : 1 Tbsp
Cumin : 2 tsp
Pepper powder : 1/2 tsp
Flour : 3 Tbsp
Baking soda : 1 tsp
Baking powder : 1/2 tsp
Lemon juice : 1/4 tsp
Dried bread crumbs : 3-4 tbs
Chicken masala powder : 1/2 tsp (optional OR)
Cayenne pepper : 1/2 tsp (optional)
Sunflower oil or any refinery oil : 2 tsp
Falafel, the lebanese deep fried balls or patties is a snack / fast food very popular in the Middle East which is now available world wide, each with its own special version. It is very popular among the vegans.  As a main dish, falafel is served as a sandwich, stuffed in pita bread / Khubboos / Turkish bread with vegetables like lettuce, tomatoes, and tahini. As an appetizer, it is served on a salad, or with hummus and tahini. Falafel is a favorite among vegetarians. It is usually shaped like a ball or flat burger. It may have a pale brown color, or be darksome. Falafel may have a smooth or grainy texture. Here is the authentic & traditional recipe for preparing falafel from scratch.
Falafel Preparation
Place dried chick pies in a large bowl filled with cold water and soak it overnight. You can omit this step if using canned beans.
The next day, drain the chickpeas and grind it in a food processor until they have a breadcrump like consistency and there are no whole chickpeas left. Transfer to a large bowl.
Next blend the onion, garlic, coriander leaves in the blender until it is a paste consistency, add to bean mixture.
Add the ingredients like cumin, chicken masala/cayenne, salt, lemon juice, bread crumbs, pepper and flour. Mix well.
Taste it to check the salt and spice level.
Add baking powder and soda about 15 minutes before frying. Mix everything well.
From this mix make small lemon sized balls.
In a large skillet/ Cheenachatti heat oil. Drop a small of batter into the oil and if it sizzles, the oil is ready.
Carefully drop the falafel balls into the oil. Fry them for 3-4 minutes until they are golden brown. Then flip over and fry other side.
Remove from the oil and drain on a kitchen towel.
Serve warm as an appetizer main dish with hummus, tahini, pita bread and vegetables.
PS:
Don't fry them for too much time. Falafel should be crunchy outside and fluffy inside.
You can try this falafel maker to prepare uniform sized falafels easily.
Watch the falafel making video below. Listen to the last part of this video to learn how to make falafel wrap.

Thanks to Hissana Ansar for contributing this recipe and yummy-porky for the image.