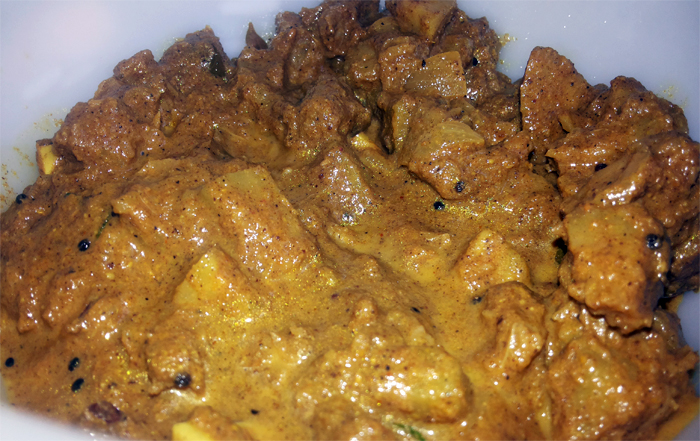 Prepration time:
45 Minutes
Persons served:
4 Persons
ingredients
Bread fruit / Kadachakka : 1/2kg
Shallots : 5 nos vertically sliced
Tomato : 1 medium vertically sliced
Curry leaves : 2strings
Grated coconut : 1cup
Green chilly : 3 vertically sliced
cumin seeds : one pinch
Coriander powder : 1tsp
Chilly powder : 2tsp
Turmeric powder : 1/2tsp
Garam masala : 1/4tsp
Salt : as needed
Water : 2cup
Oil : 2tbsp
Breadfruit popularly known as Kadachakka or Sheema chakka is a popular fruit in south India. Its even a staple food in many tropical countries. In Indonesia and Malaysia, it is called sukun while in the South Indian state like  Kerala and coastal Karnataka, it is known as kada chakka and deegujje, respectively. Breadfruit has roughly 25% carbohydrates and 70% water with an average amount of vitamin C (20 mg/100 g) and small amounts of minerals like pottassium, zinc etc.
This is a recipe for breadfruit curry (kadachakka varutharacha curry).
Preparation of Kadachakka Curry
Peel and cut the breadfruit in to small cubic pieces and clean them well.

Pressure cook the cleaned pieces along with 1/4th teaspoon turmeric powder, water and salt until one whistle and turn off the flame.
In a pan pour 1 tbsp oil, add grated coconut, onion, cumin seeds, one spring curry leaves and saute till the coconut turns brown.
Lower the flame and add coriander powder, remaining turmeric powder, chilly powder, warm it for another 3 minutes and turn off the flame.
Cool the  ingredients in the pan and transfer it to a mixer and blend it in to a thick paste .
Meanwhile in a second pan add 2 tbsp coconut oil, splutter mustard seeds, then add onion, curry leaves, green chillies, tomato and saute till tomatoes become soft.
Transfer the kadachakka along with water and the blended thick paste to the second pan and add the garam masala.
Allow this mix to boil for around 10 minutes.
Tips
While cleaning, remove the brown part of bread fruit also.

Add water accordingly to make the gravy.