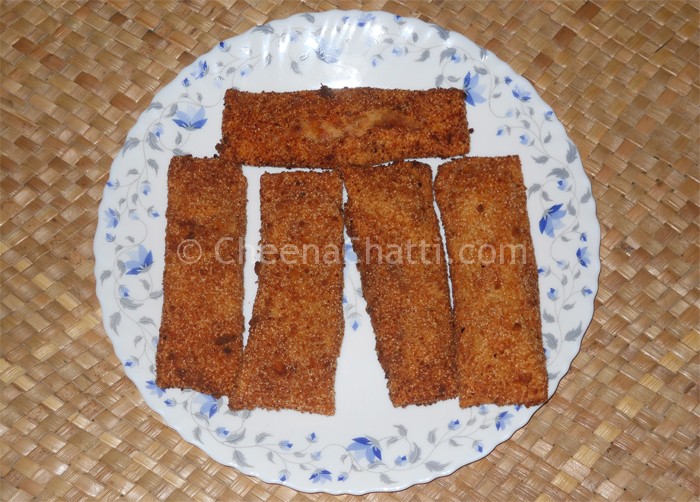 Prepration time:
45 Minutes
Persons served:
5 Persons
ingredients
Boneless chicken : ½ kg
Red chilly powder : 1 tsp
Pepper powder : 1 tsp
Butter : 2 tablespoon
Onion : 1 cup (Sliced small)
Ginger garlic paste : 2 tbsp
Green chilly paste : 1 tbsp
All purpose flour (maida) : 2 cups
Beaten eggs : 2 nos
Breadcrumbs & Semolina (Rava) mix : 2 cup
Salt : as needed
Water : 1 cup
Its the 2nd day of Holy Ramadan and we prepared this meat rolls for our iftar. Its really easy to prepare and tasty meat rolls even without baking. 😀
Meat roll preparation
Pressure cook the boneless chicken pieces with red chilly powder, pepper powder, salt and ½ cups of water up to 4 whistles.

Allow it to cool and mince the meat.
Beat the eggs in a bowl well and keep it aside.
In a pan add butter, onion, ginger garlic paste, green chilly paste and saute it till onions become brownish.
Transfer the minced meat into the pan and mix them well.
Heat it in low flame for around five minutes.
Mix the all purpose flour (Maida) with water and salt to make a batter similar to that for Dosa (Semi liquid consistency).
Heat a tawa in another stove, lower the flame and pour one spoon full of batter in to the tawa and rotate with the back of a spoon to get the circular shape (Maida appam).
After 2-3 minutes flip the "Maida appam" and get the other side also cooked.
When the "Maida appam" is ready, transfer it into a plate and take some of the meat mixture and spread it on top center of "Maida appam".
Now roll it from sides and seal it on the both edges.
Dip each of the rolled "Maida appam" in the beaten eggs and then into the breadcrumbs – semolina mix, making sure that all sides are nicely coated (Similar to Chicken cutlet).
Repeat steps 8 to 12 with remaining batter.
In another pan heat the oil and fry the coated "Maida appams" in medium flame till they become golden brown. Don't forget to flip them in between.
Transfer them to a Kitchen tissue and drain the excess oil.
Serve it hot with tomato ketchup.