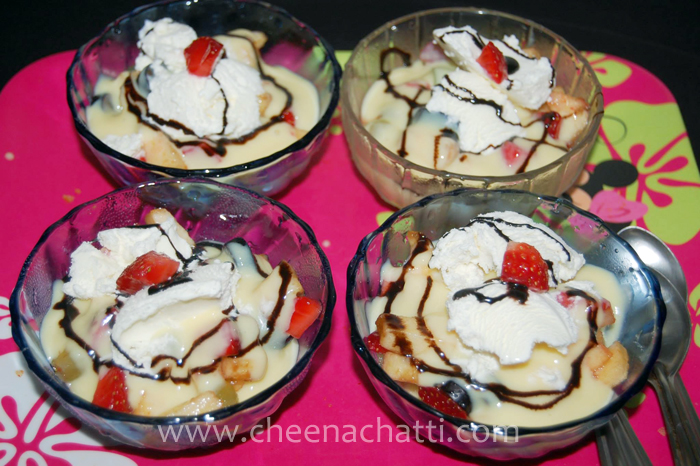 Prepration time:
45 Minutes
Persons served:
3 Persons
ingredients
Vanilla flavored custard powder : 2 teaspoon
Milk : 2 cups
Sugar : 4 tablespoons
For salad:
Apple : 1 peeled and cubed
Grapes Green : a hand full
Grapes (black) : 5-6 Seedless
Strawberries : 5-6
Pomegranate pearls : a hand full
Banana : 1 cubed
Powdered sugar : 2 tablespoon.
Fruit salad aka fruit cocktail or fruit cup is a dish made with various kinds of fruits and served as a dessert, a side-salad or an appetizer. The commonly used fruits are strawberry, water melon, pomegranate, apple, grapes etc. You can find a lot of recipes for fruit salads throughout the net. In some regions, people try adding nuts, vegetables etc in addition to fruits.
Here is my simple recipe for preparing fruit salad at home. Try it next time and let me know the outcome.
Fruit salad preparation
Refrigerate all the fruits for an hour.
Just before serving the salad, add powdered sugar and mix well.
Arrange 3-4 serving bowls in a tray.
Fill in the fruits equally.
Then add cooled custard over it.
Add a scoop of ice cream and top it with chocolate sauce.
Tips
To prevent apples from turning brown, keep the salad refrigerated or add some lime juice or add chopped peeled oranges.
You can add any number of fruits to it depending on the availability and your choice.
Cut the fruits in different shapes like round, oval, rectangular, cuboidal etc to make the fruit salad more attractive.
The rule of thumb is to use fruits with common texture but with different colors.
Don't forget to remove seeds from fruits like watermelon, apple etc.
If you are using watermelons in the preparation, you can use the left over rind (the thick outer covering) as the serving bowl.