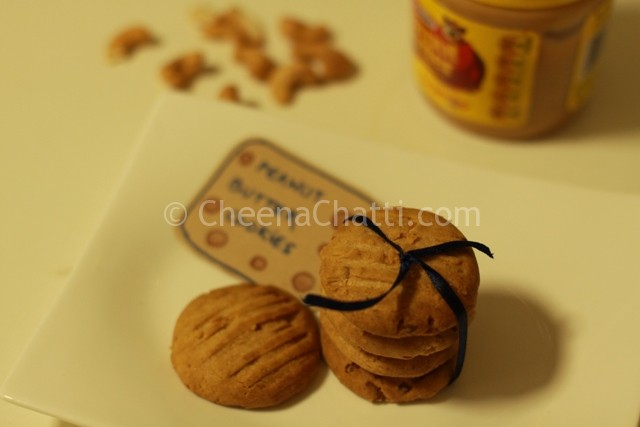 Prepration time:
30 Minutes
Persons served:
4 Persons
ingredients
1 cup Plain flour (Maida)
1 tsp Baking Powder
1/4 tsp Baking Soda
1/2 cup Crunchy Peanut Butter
1 tbsp Unsalted Butter
8-10 Chopped Cashewnuts
1/2 cup Caster sugar
Crunchy, Buttery, Sweet-n-Savory… All in one!!! It's time to grab this delicious "Peanut Butter Cookies" with your cuppa tea 🙂
Little history
A peanut butter cookie is a type of cookie that is distinguished with peanut butter as the principal ingredient. It is originated in the United States dating back to the early 1910s. It is Pillsbury, one of the large flour producers, popularized the use of the fork to produce the patterns in the peanut butter cookies in 1930s.
Peanut Butter Cookies preparation
Combine peanut butter, unsalted butter and caster sugar in a mixing bowl. Whisk them all together to make a fluffy mixture.
Sieve plain flour, baking powder and baking soda into it.
Add chopped cashew-nuts and mix everything well to form a soft dough.
Divide the mixture in 16 portions and make balls out of them.
Flatten them a little and make a pattern using fork on all cookies.
Bake them in pre-heated oven for 15-18 mins on 180 degrees till they are golden brown.
Let it cool down to the room temp and store in air-tight container.
Enjoy these crunchy goodies with your cuppa tea 🙂