Kozhukattai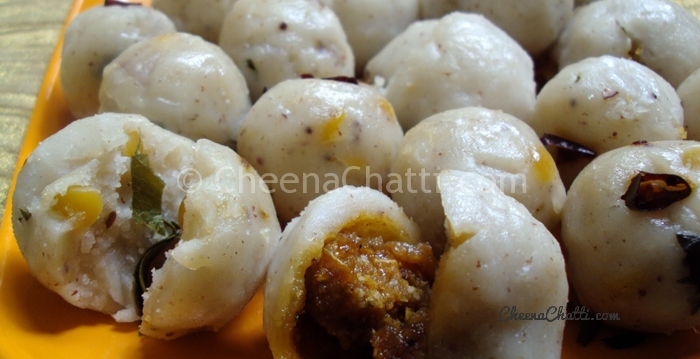 Ingredients
Rice flour : 1 cup
Grated coconut : 1½ cup
Thick jaggery syrup : ½ cup
Cardamom powder : 1 tsp
Water : 1 cup
Salt : A pinch
Kozhukkatai is a traditional Kerala Christian recipe (particularly among the Syrian Christians) which were made during the time of Easter. Kozhukkatai is also one among the most popular Kerala sweet which is prepared from rice flour, grated coconut and  jaggery. The dough for Kozhukkatai is made similar to that of Idiyappam.
This is a special recipe for Palm Sunday (In Kerala Kurutholla Perunaal).
Kozhukattai preparation
Add salt to water and boil it.
Pour this water into the rice powder and knead well to make smooth dough, without lumps.
Make big lemon sized balls out of this dough.
Heat a thick bottomed sauce pan and pour in the jaggery syrup and mix the coconut and cardamom powder.
Keep it over the flame till the moisture dries up with constant stirring.
Spread a little oil on your palm and take a ball of dough and flatten in slightly.
Put a spoonful of the mixture (#7) in this and secure all the sides and roll lightly.
Prepare the entire balls using the rest of the dough.
Steam the kozhukkattas till done and serve them warm.
More mouth watering recipes!