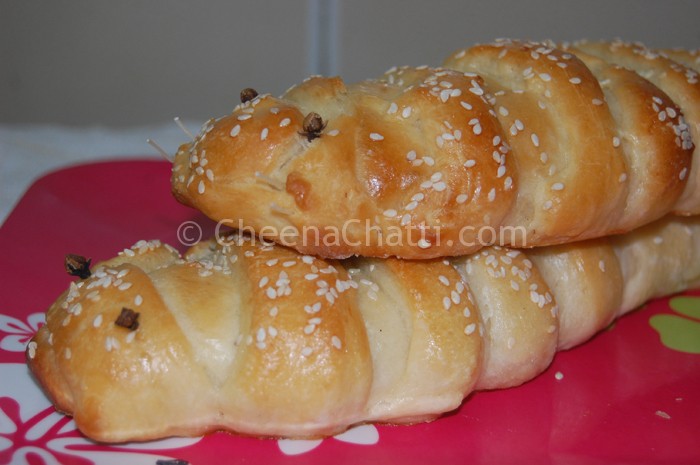 Prepration time:
1 Hour 30 Minutes
Persons served:
4 Persons
ingredients
All purpose flour - 3 cups
Egg - 1
Active Dried Yiest - 1 Table spoon
Sugar - 1+2 Table spoon
Oil - 1/4 cup
Luke warm water - 1 cup
Salt to taste
For eggwash
1 egg
For the filling
Boneless chicken pieces - 500 grams
Medium Onions - 4
Green chillies - 4
Ginger garlic paste - 1 table spoon
Curry leaves - 2 strings
Pepper powder - 1 teaspoon
Garam masala powder - 1 teaspoon
Capsicum chopped - 1/4 cup
Carrots grated - 1/2 cup
Oil - 3-4 table spoon
Coriander leaves - 1/2 bunch
Salt to taste
Eid Mubarak to all my friends. Hope you all enjoyed Eid well. I was planning to share this recipe of Chicken filled Caterpillar buns or stuffed Croissant in Ramadan, but I couldn't share it with you. Anyway here it is. Try it at home and let me know your thoughts on it.
Preparation of Chicken filled Caterpillar Buns
In a bowl, add 1/4 cup of lukewarm water, dried yeast, 1 table spoon sugar and keep aside for 10 minutes.
In a large bowl, add flour, milk, oil, 1 beaten egg, 2 table spoon sugar etc. and mix with a spoon.
Add yeast-sugar mix in and knead well with hands.
Add luke warm water to make the dough a bit pliable.  Knead well to get a smooth structure.
Make the dough like a big ball and cover the bowl with a damp towel.
Let it rest for 4 hours to double the volume.
In the meantime, let us prepare the filling:
Cook chicken with a little pepper powder and salt.  Shred it and keep aside.
In a non-stick pan, heat oil and add sliced onion and saute in medium flame until light brown in color.
Add ginger garlic paste, chopped green chillies, curry leaves and salt.  Saute for 2-3 minutes.
Add shredded chicken, chopped capsicum and grated carrot to it and cook for at least 5 minutes.
Add chopped coriander leaves and sprinkle garam masala.  Mix well and switch the flame off. Let it cool.
Now lets work with the dough again.
Punch down the dough lightly using the palm and divide it equally.
Clean and generously dust your workspace with flour.  Roll out the dough into slightly think round shape and add the filling on one side and cover it to other side.
Give some slits on the other side (Please refer the pictures) and fold the slits on the covered side just to look it like a caterpillar.  Let it sit for another 10 minutes.
Beat another egg in a small bowl and brush the buns slightly with a beaten egg.  Sprinkle sesame seeds on top.
Preheat the oven in 200 degree.  Arrange butter paper on the baking pan and keep each buns on the paper leaving 2-3 centimeter distance.
Bake the buns for 15-20 minutes or until the top portion is golden brown.
Serve the Croissants warm!
Tips
You can use anything like veggie, chicken, cheesy, tuna, etc for the Croissant filling.
Stuffed bread / Croissant making – Video tutorial (in Malayalam)

Try it and let me know your feedbacks 😉