Paneer Subz Bahar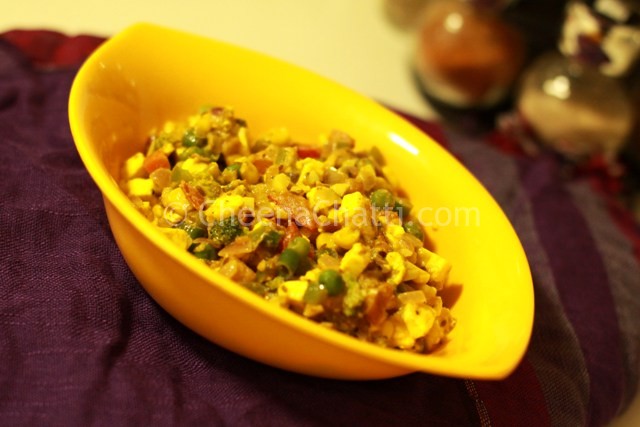 Ingredients
100 gm Paneer
1 tbsp Full Cream
1 tsp Ginger-Garlic Paste
2 tbsp Chopped Bellpepper
1 Chopped Onion
2 tbsp Chopped Tomato
1 tbsp Chopped Broccoli
1 tbsp Chopped Mushrooms
1 tbsp Boiled Corn
1 tbsp Boiled Green Peas
1 tbsp Chopped Carrot
1 tsp Garam Masala
1/2 tsp Red Chilly Powder
1 tsp Coriander Powder
2 tsp Lemon Juice
Salt, to taste
1 tsp Cumin Seeds
A pinch of Hing
1 tbsp Butter
2 tsp Oil
A colorful looking, quick-to-make dish with medley of all seasonal vegetables n kids-friendly paneer!!! 'Paneer Subz Bahar' is something I always make when I'm tired to cook anything else on lazy weekday nights.  Higher in nutritional value and super-delicious North-Indian delicacy is always on top of my list of favorites 🙂
Paneer Subz Bahar preparation
Cut paneer into tiny cubes.
Heat butter+oil in kadai and add cumin seeds along with hing.
Once it stops crackling, add ginger-garlic paste and chopped onions.
Saute it till raw flavor is gone completely.
Add rest of all vegetables (except tomato) along with salt and turmeric powder and cook it covered for around 4-5 mins.
Once they are soft and tender, add full cream, paneer cubes and chopped tomato with rest of all spices.
Mix everything well and cook it for 2-3 mins more.
Turn off the heat and add lemon juice. Give a quick toss.
Transfer it to a serving bowl and serve hot with any sort of paratha!!! 🙂
Note:
You can add any seasonal veggies of your choice!
To make it look colorful, I used red n green bell pepper. Yellow one can be added too 🙂
This entry was written on February 14th, 2017 by
SJ
in
Vegetarian
and tagged with
punjabi curry
,
paneer
,
punjab recipes
,
paneer recipes
,
vegetarian
,
easy paneer recipes
,
best paneer recipes
,
tasty paneer recipes
,
how to make Paneer Subz Bahar
. Last revised on
February 22nd, 2017.
More mouth watering recipes!
Tried & Tasted by
Hi... I'm SJ! Not a professional chef or anything even related to that... It's just my passion to learn more n more in the kitchen!!! Love adapting recipes, mixing 'SJ Element' into it and taking it to a new level I'm a big-time food lover, but a break in professional career made me dig into culinary world much more than before! And I enjoyed this process of self-migration from being "Food Lover" to "Food Blogger"
You can follow SJ at :