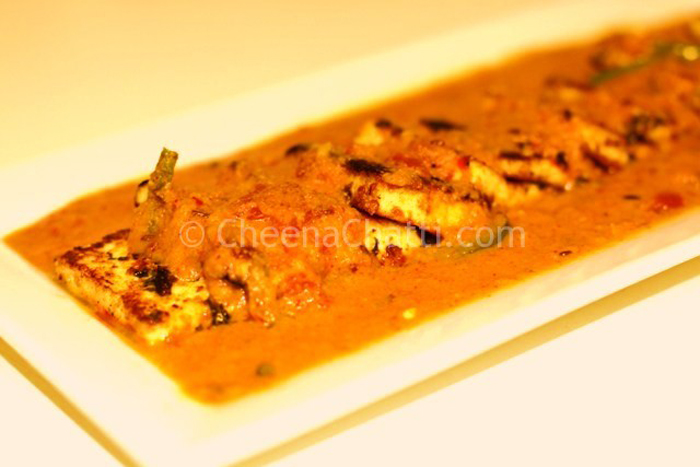 Persons served:
4 Persons
ingredients
3 Diced Onions
2 Diced Tomatoes
4-5 Cashewnuts
1 tsp Melon Seeds (Magaztari)
2 tsp Ginger-Garlic Paste
250 gm Paneer
1 sq. inch Butter Cube
1 tbsp Oil
1 tsp Kashmiri red chilly powder
1 tsp Coriander Powder
1/4 tsp Turmeric Powder
1/2 tsp Garam Masala
2 tsp Lemon Juice
Salt, to taste
For Marinade:
3 tsp Tandoori Masala
1 cup Thick yogurt
2 tsp Besan
1 tsp Ginger-Garlic Paste
1/4 tsp Mint Powder
Salt, to taste
2 tsp Oil
A 'Paneer Delicacy' that rules North-Indian cuisine for a long time – "Paneer Tikka Masala"! Soft paneer pieces, first marinated with Tandoori Spices and then served in a brown gravy, is definitely a great dhaba-style dish! 🙂
Preparation of Paneer Tikka Masala
Cut paneer into square pieces as shown in image.
Coat paneer cubes well with this marinade and cover the bowl with lid or plastic wrap.
Take all the ingredients in a big bowl and mix well to make a thick paste.
Cover it with lid or plastic wrap and keep it in refrigerator at least for half hour.
Roughly cut the onions and tomatoes into dices.
Meanwhile, heat oil in a deep pan and saute onions & tomatoes together with salt and a pinch of turmeric powder.
Cool it down to room temp and grind it with cashewnuts and melon seeds to make a smooth paste.
Heat oil in deep pan and add ginger-garlic paste. Saute it for a few sec.
Add onion-tomato gravy and cook it for 4-5 mins.
Put some oil in a flat-pan and heat it on high flame.
Grill paneer on it till it forms crispy skin on both the sides.
Arrange grilled paneer pieces in a plate and pour this gravy over it.
Serve hot with Tandoori Naan 🙂
We have other paneer recipes also. Try them.