Vattayappam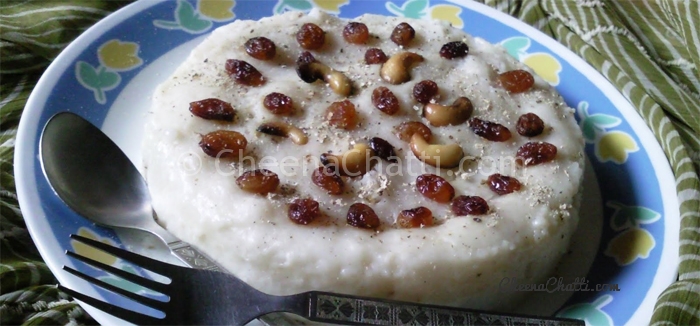 Ingredients
Rice flour : 2 cups
Grinded coconut : 3 cups
Grinded rice : 1tsp
Sugar : 1cup
Mashed bananas : 1/2 cup
Maida : 150gm
Sugar : 4tsp
Egg : 1
Cashewnut and Raisins ( Kismis / Dried grapes ) : as needed
Salt as needed
Cardomom : 4 or 5 seeds crushed
Baking soda : 1 pinch
Today we had a few visitors at our home, my sisters family and their kids. We made vattayappam as evening snack for us. They liked it. We used smashed bananas also as an ingredient and that was the main difference from the usual vattayappam recipes. Try this recipe at home and let me know your feed backs.
Vattayappam is a typical Kerala Christian snack item prepared usually during Christmas and Easter days.
Vattayappam preparation
Mix 

Rice flour, Grinded coconut, Grinded rice, Sugar, Mashed bananas, cardamom and salt well in a large bowl.
Add 1 pinch baking soda to the mix and keep it aside for 1 hour.
Mix well maida, egg, sugar in a mixer.
When the batter is ready mix the two solutions together and blend it thoroughly. Kept it idle for half an hour. (Make sure that the batter is not too loose )
Heat the idli cooker with half
Apply a little ghee/oil in a cake tin (idli cooker) & pour the batter into it.
Decorate with some cashew nuts and raisins on the the top.
Steam it for 20 – 25 minutes.
Cut into wedges and serve as evening snacks or as breakfast foods with spicy Chicken Curry, Mutton Curry or any curry of your choice and Enjoy!
This entry was written on January 29th, 2016 by
Renoos
in
Bakery
and tagged with
kerala food recipe
,
how to make vattayappam
,
kerala vattayappam
,
vatteppam
,
breakfast
,
vatteppam recipe
,
kerala snacks
,
vattayappam
,
vattayappam recipe
. Last revised on
February 11th, 2016.
More mouth watering recipes!