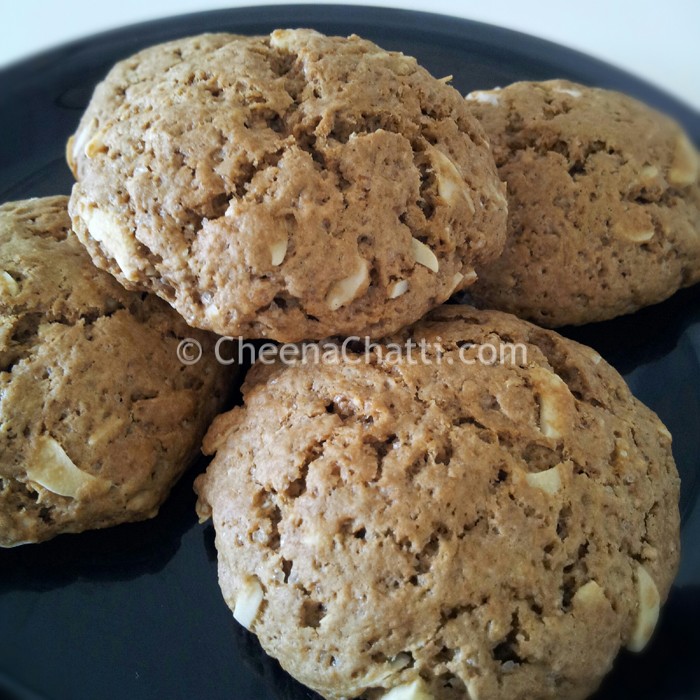 Prepration time:
60 Minutes
Persons served:
4 Persons
ingredients
1 cup All-purpose Flour (Maida)
1 tsp Baking Powder
1/4 tsp Baking Soda
2 tbsp Cocoa Powder
1/4 cup Sugar
1/2 tsp Vanilla Extract
1/4 cup Chopped Almonds
1/4 cup Oil
A pinch of Salt
Water, as required
Are you a chocolate lover? Errrr…  Lemme reformulate my question! Do you love nuts as well as chocolates??!!! 'Chocolate Almond Cookies' sound the perfect one for you 🙂 Crisp from outside, melt-in-mouth cookies are worth trying once… Kids definitely will love having them for on-the-go bites 😉
Chocolate Almond Cookies Preparation
Sieve maida, baking powder, baking soda in a big bowl.
Add all other ingredients in the same bowl and mix them well.
Knead a soft dough by adding water gradually as required.
Roll it out to make a sheet of 1/2″ thickness.
Use your favorite cookie cutter to shape them. I used round one only.
Arrange these cookies on a baking paper in baking tray.
Bake them in pre-heated oven for approx 20 mins on 180 degrees.
Enjoy these cookies with a cuppa coffee!!!
Try our other cookies recipes too.