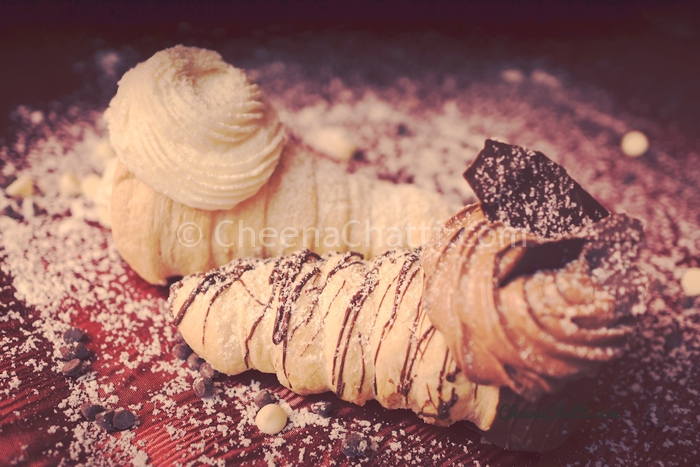 Prepration time:
45 Minutes
Persons served:
8 Persons
ingredients
Water : 1 cup
Butter : 100g
Salt : 1/2 tsp
Plain flour : 1cup
Eggs : 6
Cherry : 250gm
Egg yolks : 8
Corn starch : 3table spoon
Water :450 ml
Sweet condensed milk : 1 tin
This French delicacy is a decadent and crispy pastry, oozing with delicious custard. Try this creamy cherry eclair recipe at home yourself and let me know your comments. I am sure your kids will love this recipe.
 Cherry eclair recipe – Preparation
In a large saucepan combine the water, butter and salt. Bring to the boil then add the flour.
Stir over medium heat for five minutes to get a thick mixture. Pour into a bowl and gradually add the eggs, beating until the mixture becomes smooth.
Pour the mixture into a piping bag with a round nozzle. Make 10 cm bars on a non-stick pan.
Bake in a preheated oven at 200 degress Celsius for 15 minutes until the eclairs have a crispy texture.
For the cherry custard, put the cherry puree in a pan and heat for 10-15 minutes. Set aside to cool.
I a bowl, mix the egg yolks and cornstarch together until smooth. Boil the water and the sweetened condensed milk in a saucepan, then add to the mixture. Cook over a low heat until the mixture takes on a firmer texture.
Add the cherry puree, mix and set to coll in the refrigerator for 15 minutes.
Slice the eclairs horizontally and fill with custard. For an extra top with melted chocolate.