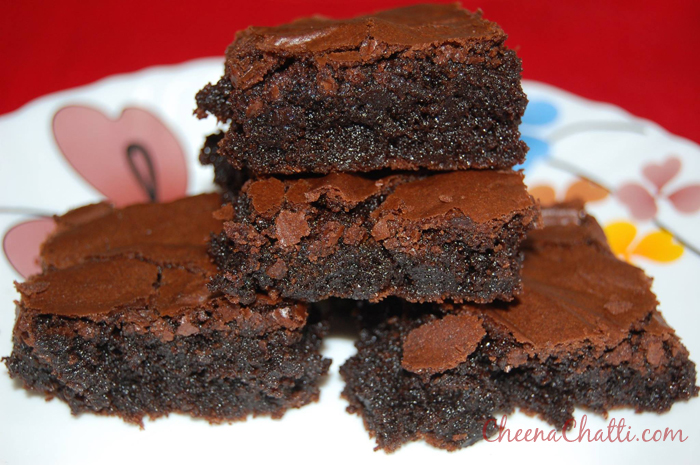 Prepration time:
60 Minutes
Persons served:
10+ Persons
ingredients
All purpose Flour : 1 cup
Cocoa powder : 1/4 cup
Baking Powder : 1/2 tsp
Salt : a pinch
For Frosting
Butter : 100g
Dark chocolate grated : 225g
Instant coffee : 2 tsp
Sugar : 1/4 cup (Powder it)
Eggs : 3 (Lightly whisked)
Cakey on the outside and fudgey in the middle, here is the best recipe for a perfect double chocolate mocha brownie. These are very rich, very chocolatey, and very good in taste. Try it and share your results as comments below.

Double Chocolate Mocha Brownies preparation
In a large bowl, whisk flour, cocoa, baking powder and salt very well. Keep aside.
Melt chocolate and butter in a double boiler. When its melted, add coffee powder and powdered sugar and mix very well.
Add in the whisked eggs and stir.
Later, fold in the flour-cocoa mixture spoon by spoon until well incorporated.
Butter and line up a square cake tin. Transfer the batter to the tin and bake for 40-50 mints or until the brownies passes the skewer test (see below).
When the brownie is done, transfer the tin to a wire rack and let it cool.
Later, on a cutting board, cut the brownies in to 16 square pieces.
Serve with Ice cream!
PS : What is Skewer test?
Using a fork /a cocktail stick / a skewer or a toothpick poke the top of the cake slightly towards the middle. If it comes up with some wet batter or crumbs or stickiness on it, then it means the cake needs to baked for some more time. If the toothpick is dry, then the cake is done.