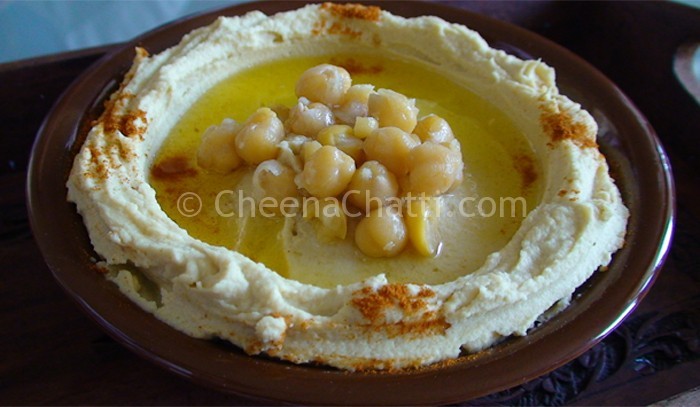 Prepration time:
10 Minutes
Persons served:
4 Persons
ingredients
Chickpea : 500gm
Tahini paste : 250gm
Garlic : 1 medium sized
Lemon extract : 2 lemons
Olive oils : As needed
Salt : As needed
Here is another arabian recipe from our subscriber Saumya. Hummus  is an Arabic food made from cooked, mashed chickpeas blended with tahini, olive oil, lemon juice, salt and garlic. Its popular through out the Middle east and globally. Use this recipe to prepare home made Hummus instead of purchasing unhealthy ones from the shops (You can save your health and a few bucks). 

Nutritional Info
Hummus is high in iron, vitamin C, folate, vitamin B6. The main ingredient chickpeas are good source of protein and dietary fiber.  Tahini is an excellent source of the Aminoacid methionine, complementing the proteins in the chickpeas. Hummus  also carries varying amounts of monounsaturated fat. Hummus serves as a complete protein when eaten with bread.
Preparation of Hummus
Drain and rinse the chickpeas and keep it aside.

In a mixer blend the tahini paste, garlic and the lemon extract together for 2 minutes.
Add the chickpeas to it and blend it until smooth.
Add salt, starting at quarter a teaspoon, to taste.
Transfer it to a serving bowl, and create a shallow well in the center of the hummus.
Add the olive oil into the well.
You can serve it immediately with Chappathy,  pita bread, Alfaham chicken or cover and refrigerate.
Tips
You can refrigerate Hummus for up to 3 days and can be kept in the freezer for up to one month. Add a little olive oil if it appears to be too dry.

You can garnish it with parsley leaves.
Share your comments below aafter trying this hummuse recipe.