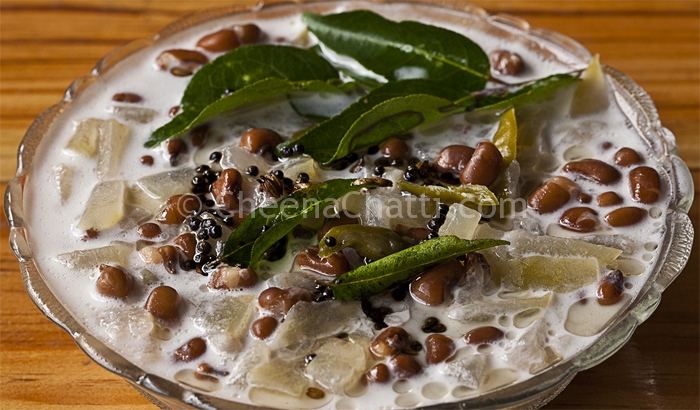 Prepration time:
30 Minutes
Persons served:
4 Persons
ingredients
Black eyed beans (Vanpayar) : 3/4 cups
Raw pumpkin : 1cup, cut into cubes
Green chillies : 4nos
Grated coconut : 1 half
Coconut oil : 1tbsp
Mustard seeds : 1/2 tsp
Curry leaves : 1sprig
Salt : as needed
Here is the second side dish for your Vishu Sadhya. You can find other sadhya recipes in my previous posts. Olan is a traditional Kerala side dish which is regular at every Onasadya. Kerala Olan is made with red gram and  vegetables (pumpkins) cooked in coconut milk, which gives it a rich and creamy texture.
Kerala Olan preparation
Clean and soak the Red Cow peas (Vanpayar) for a long time in water (around 5 hours).
Chop the pumpkin into small cubes and wash it well.
Add the green chillies (sliced length wise), salt and the soaked red cow peas to this.
Cook it well and drain (Don't over cook the vegetables, they should retain their shapes).
Collect the first extract of the coconut milk by squeezing the grated coconut with around half a liter of water.
Collect the second extract also by pouring one liter of water once again into the grated coconut and squeezing it well.
Add the 2nd extract of coconut milk to the cooked and drained vegetables.
Allow it to boil and when it boils, switch off the flame and add the 1st extract of coconut milk.
Heat oil in a pan, add the mustard seeds and curry leaves. When the seeds starts crackling, turn off the flame and add it to the dish. Mix well.
Serve it hot with Sadhya.